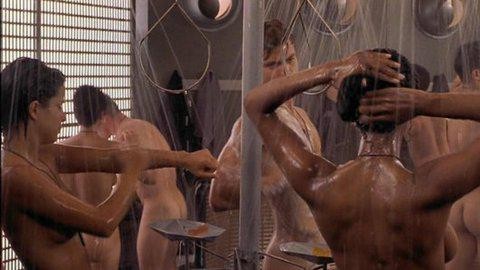 WHAT IS CO-WASHING?
Well, it isn't squishing into the shower with your partner or flattie for a joint hair-wash, although that could be a good time.
Co-washing is a one-step cleanse of your hair with a cream or gel conditioner designed to gently clean your scalp and remove product build-up and oily residue from your hair. It's literally a shortened nickname for "Conditioner Washing"
BUT WHY?
Not everybody wants a squeaky-clean ending to their hair-wash. If you have curly hair or dry frizzy hair, you're gonna be especially hesitant to disrupt your scalp's natural oils or overstimulate your cuticles with a strong shampoo. Switching out your shampoo for a Cleansing Conditioner can leave your hair softer, with less breakage, easier to manage and super hydrated!
HOW DOES IT WORK?
Many Co-washes contain plant and fruit enzymes like Salicylic Acid, Bromelain, Papain and Glycolic Acid. These ingredients are widely used in skincare too because they are highly effective and non-abrasive exfoliants. There is nothing not to love about a fruit enzyme.
WHO SHOULD CO-WASH?
Definitely anybody with curly hair. Give Co-washing a go if you have thick, coarse, dry hair, or a combination of any of the above. Curls, waves and coils NEED moisture, co-washing will soften and hydrate curls, supporting your natural oils and nourishing your cuticle.
If you have fine straight hair, Co-washing is not for you.
HOW DO I DO IT?
STEP ONE: Apply your Co-Wash to the roots of your hair and massage into your scalp. It is really important use the same scrubbing technique that you would use for a shampoo to ensure that your scalp is getting a thorough cleanse. Work the cleanser through to the ends of your hair and leave it for a few minutes, this allows the active ingredients in your Co-wash time to do their business. Rinse thoroughly to slough away dead cells and product buildup.
STEP TWO: Apply your regular conditioner to the mid-lengths and ends of your hair massaging it into your hair with long downward strokes. Choose a conditioner that suits your hair needs; strength, shine, moisture, volume or anti-frizz. Comb through to detangle and rinse, you're done!
CAN I USE MY REGULAR CONDITIONER AS A CO-WASH?
Yep, you sure can. Regular conditioners can be just as moisturizing although they are unlikely to contain the key ingredients that make a Co-Wash so effective - just be sure to mix it up with a quality clarifying shampoo once a week to remove fat and oil buildup from your hair and scalp.
THE RESULTS
HYDRATION: Bring dry hair back to life
STRENGTH: Strengthen your hair and increase its natural protective ability.
BOUNCE: Improve your hair's elasticity for bouncy curls
SHINE: Lift dull dead cells from your hair and scalp to boost shine
FRIZZ FREE: Post-shampoo fluffy hair can be a drag, skip straight to a good hair day.