Anybody with straight hair knows that it comes with its own unique set of challenges and perks. Your long glossy hair may be the envy of your friends but for a straight-haired-human the struggle for texture, volume and wave is real.
THE NERDY SCIENCE - Straight hair types span a variety of textures and densities and it's an especially common hair type in (but not exclusive to) East Asian ethnicities.
Speaking to Eva of Colleen Salon, she explains: "When you slice it in two and check it out under a microscope; straight hair is typically round in shape, with thick fibres that grow straight out from your scalp. Each strand often has a larger diameter than other hair types meaning it can grow longer and stronger. Straight hair also boasts the fastest growth rate at a whopping 1.4 cm/month".
Typical human hair has 5 to 10 layers of cuticles. Straight hair types have more cuticle layers, closer to 10 where other wavy or curly hair types have 5. The cuticle scales are also wider, thicker and more densely packed. It also has the longest cycle of growth, lasting up to nine years compared to the average two to seven years.
FUN FACT - The world's longest documented hair belongs to Xie Qiuping (China) at 5.627m (18 feet 5.54 in) when measured on 8 May 2004. She has been growing her hair since 1973 from the age of 13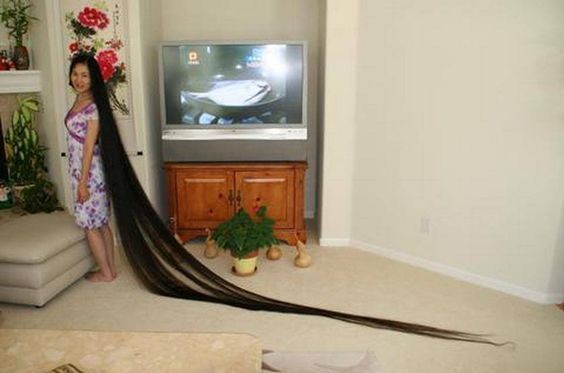 HOW TO CARE FOR STRAIGHT HAIR - Eva says: "The ends of straight hair tend to be dry, while the scalp tends to be oily. Because you don't want to completely wipe out your natural oils, instead of using an oil-stripping shampoo use sulphate-free shampoos but use them more regularly. Wash your hair two to three times a week - only using the foam from the shampoo on your ends. This way, you get rid of the excess oil on your scalp and avoid drying out your ends.
The next step is hydrating those dry ends. Use a moisturising conditioner and target the ends of your hair. If that sounds like a freaky amount of moisture to you then opt for a combo of a lightly moisturising rinse-out conditioner and a nourishing leave-in product for your ends.
Eva says: "Applying oil to damp hair immediately after washing it ensures that the moisture is locked in and the hair stays hydrated. It also promotes healing and prevents hair damage".
COLOURS AND CHEMICAL TREATMENTS - A wee bit of damage from chemical treatments can be awesome in this hair type, roughing up that cuticle and giving it some grip. It's most common for straight hair to be black or brunette in color, so when it comes to lightening straight hair types it can be an arduous task, you've been warned. Some folk have even been known to bleach their hair and colour it back to dark in one sitting to get that beachy bleach texture and skip out on the downsides of brassy blonde hair. Using bond builders at home is a great way to prep and fortify the structure of your hair before and after a bleach BTW.
GET A HAIRCUT - Eva Says: "Go for a natural, non-stiff looking cut by getting layers. This is one of the easiest ways to achieve texture in straight hair. Ask your stylist to create a set of layers in your hair to add volume and movement to your hairstyle. If you want something edgier, ask for razored layers. This will give a more piece-y effect to the ends of the hair. This can also be achieved on shorter pixie crops and looks super-hot in bangs".
STYLING STRAIGHT HAIR - Thick glossy hair with a tightly packed cuticle can make it harder for styles or shapes to hold, the smooth texture makes for very slippery hair! Even putting hair in a ponytail can be difficult. Your first thought may be to get heavy-handed on the product and glue those strands into place, however, it's quite the opposite; useless.
Eva says: "Shiny straight hair can inspire envy from other hair types. One specific and significant problem with straight hair is that it's really slippery. While others may see this hair as sleek and glossy, it is actually tricky to work with and hold a style. Invest in a dry texture spray or a mousse to give silky strands more grit; they are great products to use when you want to achieve that messy, beachy look".
HEAT SETTING TEXTURE & CURL - If the idea of getting a perm is a seriously frightening prospect, but you still lust after some bouncy waves, curling wands and irons could be your new bff. Straight hair types can handle a bit more heat but you're still gonna want to prep with a heat protectant before using any hot tools on your hair to protect it from damage. A small tong will give you lots of volume and curl, a big tong will give you wave and bounce and using a flat-iron for wave will give you a beachy texture.
Eva Says: "Use a curling iron will make your layers more prominent. Focus the curling irons on roots to mid hair - leaving the very ends out will create a more natural look. If you're going for tighter curls, try pinning each curl to set while they cool. A weightless finishing spray at the end of styling will maintain texture and hold, plus reinforce the appearance of separation".