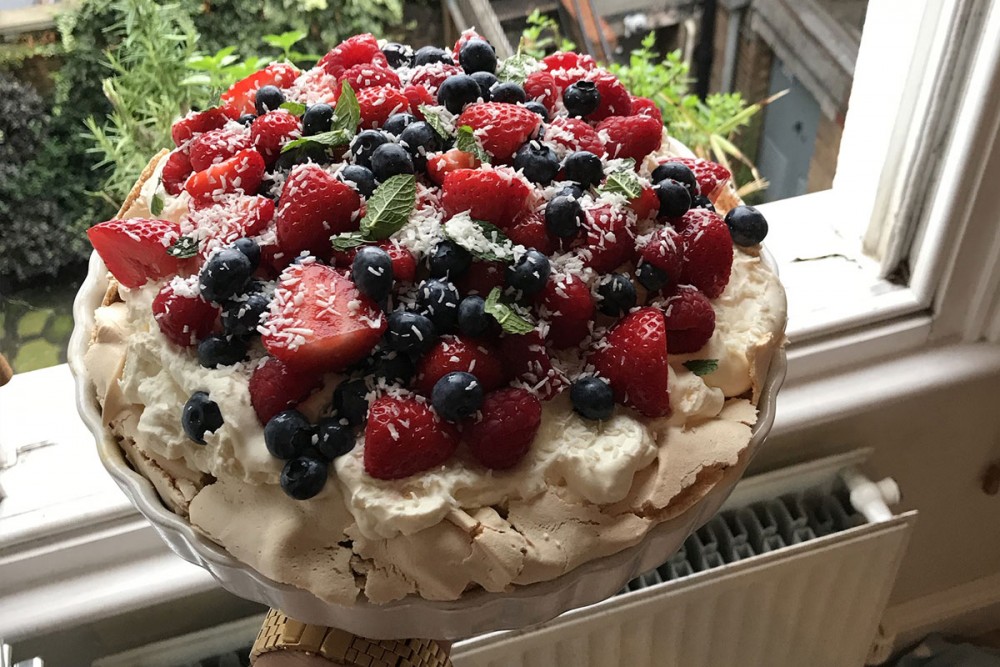 GUY COOMBES AKA the Pavlova King
The people love a Pavlova and get mad excited over it. It's really satisfying to see other desserts ignored and people fighting over the last spoonfuls of my Pav. It's the perfect dessert especially for summer & my recipe does not disappoint.
INGREDIENTS:
5 egg whites
1 pinch of salt
1 cup of caster sugar
1 tablespoon of cornflour
1 teaspoon of vanilla essence
Fresh cream
Strawberries
Blueberries
Raspberries
Fresh mint
Desiccated coconut
METHOD:
Preheat oven to 160˚C
Place egg whites in a large bowl and whisk with a pinch of salt until peaks form. Gradually add the sugar, a third at a time whisking well until the mixture is thick and glossy.
Add the cornflour and do one final combine. This is the crucial make or break moment. You should be able to turn the bowl upside down and the mixture is solid and nothing slips out, if it does then you need to whisk more or it's probably ruined and you should start again.
Shape the mixture into a round shape on a baking tray lined with non-stick baking paper.
Place in oven and reduce the temp to 150˚C. Bake for 45 minutes, then reduce to 120˚C for another 45 minutes
Turn off the oven and leave to cool with the oven door open. If you succeeded the outside should be golden and crispy, and the inside soft and fluffy like a cloud.
Whip the cream.
Add your toppings. The great thing about Pav is you can top with whatever you want, but my crowd favourite when in season is fresh strawberries, blueberries, raspberries, mint leaves and desiccated coconut.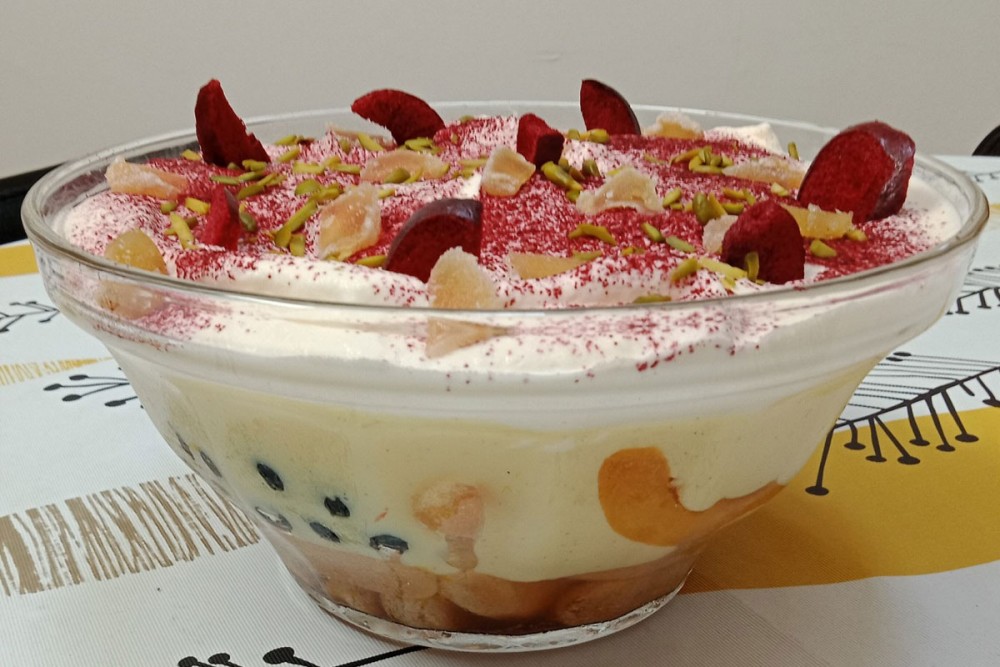 I love making trifle because it allows me to be creative with what I have in the pantry, provided the basics are there.
I use a glass bowl, in order to see the layers in the trifle, but not everyone has one and it is not necessary, but the bowl should be deep rather than shallow. It is equally delicious the next day, so if you have a busy workload, can be made in advance, or perhaps up to the jelly layer, which needs time to set.
Trifle involves a number of layers:
Sponge soaked in sherry or other fortified wine, or something like cranberry juice if you want to avoid alcohol
Jelly (optional) - it can be equally delicious without it. For this one I used the syrup from the jar of Spanish peaches and added a dash of home-made fruit liqueur and some Fijian ginger syrup – something that I would list as an essential in any pantry, lifting the mundane to the sublime. Any strong fruit juice – in winter I often use fruit that has been poached with a cinnamon stick, two star anise, and 2-3 cloves. And if you really want something special make the jelly with champagne!
Fruit – any fresh or stewed fruit is good. This time I used the peach halves, which I sliced and fresh blueberries, and frozen cherries are also delicious, or any other fresh berries
Custard – when I have time, I make a fresh custard, but when things get hectic, I cheat and buy a bottle of vanilla custard from somewhere like Farro. If you can't find that any packet of readymade custard can be lifted by beating in a teaspoon of vanilla paste.
Whipped cream – I never add sugar, as there is enough in other elements of the dish.
Surface decoration
TO MAKE:
Either use a bought sponge from the supermarket or follow the Italian principle and use a packet of Savoiardi (lady finger) biscuits, which are readily available at supermarkets.
Drizzle over whatever alcohol or juice you prefer (the marriage of any kind of good quality sweet sherry or marsala and cream/custard in any form is sublime
Add sliced/chopped fruit
Soak enough gelatine leaves ( 6 small ones in the packet I used) in shallow water to set 250 gms of liquid or double it if you are cooking for more than 6 people. After 4-5 minutes the gelatine will be soft, at which point you stir it in to warmed juice/wine and it will dissolve instantly. Stir in anything extra like the ginger syrup. Pour over the fruit and sponge layers. Leave in the fridge to set. This is easily done the day before if you have room in the fridge.
Pour over the custard and return to the fridge.
Carefully add the whipped cream once the custard has firmed a little, smoothing the surface.
Decorate! Working on the principle that we eat with our eyes, I sprinkled over some freeze-dried raspberry powder (I use a small sieve which I shake gently, otherwise it might land in clumps), then chopped pistachios and chopped crystallised ginger, and finished with pieces of freeze-dried plums, which have a lovely dark tone to them. Just before serving, you could go completely over the top and add a line of fresh cherries or strawberries around the edge.
I also love to make trifles in pretty whisky or water glasses, so everyone has their own perfect serving – it stops any children (or adults) fighting over portion size, but more importantly it's lovely to be able to pick up your glass and see the layers in the dish.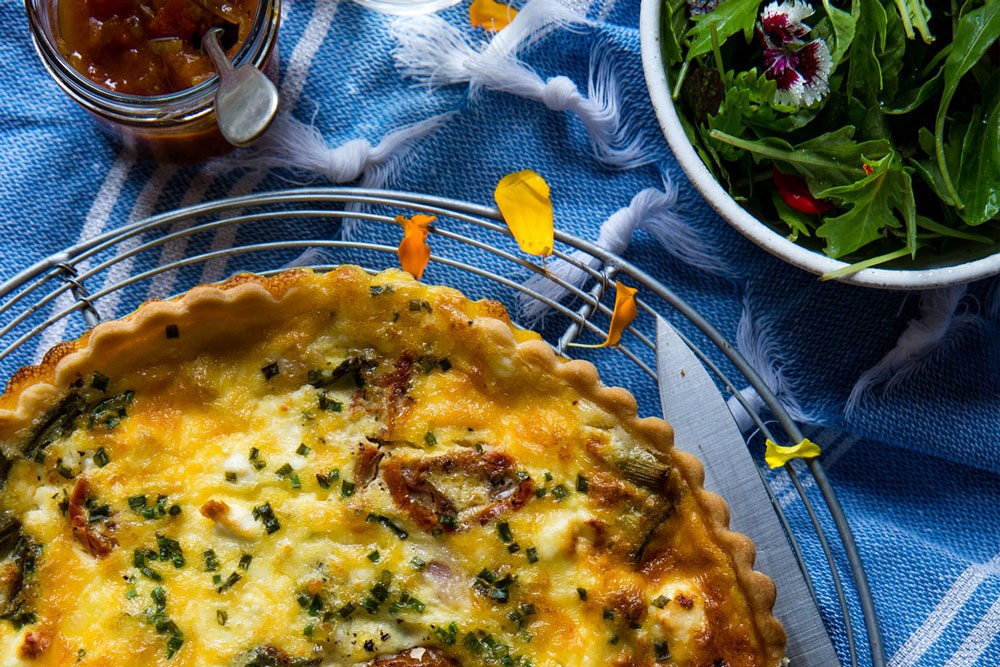 I'm actually quite lazy when it comes to cooking for other people. I have to read the room, so if it's something grown-up then a Gratin Dauphinois is a good idea. It sounds fancy but it's really just potatoes sliced into a baking dish smothered in cream and shoved into the oven for half an hour. If it's low-key and this is more of a summer vibe, then I've recently been experimenting with quiches. It requires little effort but looks impressive and people feel satisfied. This bacon and feta quiche recipe by Viva recipe editor Angela Casley is my go-to, great with a salad and some caramelized onions.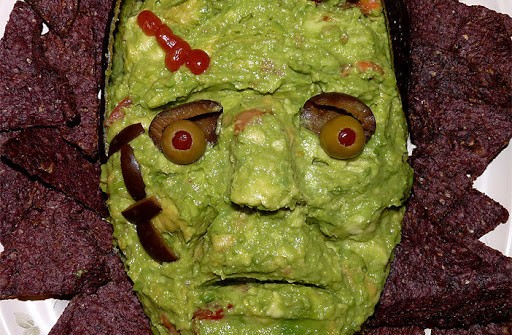 I never get anxiety when I'm asked to bring a plate anymore, I don't even have to cook my dish; it's guacamole, basically because I get emotional validation when the bowl is scrapped to the bottom every time. Also, a great dish because its vegan and accompanied by delicious corn chips.
INGREDIENTS:
2 avocados
1 red chilli
1 lime
1 spring onion
6 vine tomatoes
1 bunch coriander
Salt
Pepper
METHOD:
Peel the avocados and smash them in a medium bowl leaving the texture a little chunky.
Squeeze the lime juice over the smashed avo.
Slice the tomatoes and remove the seeds, then dice into small pieces.
Chop the spring onion into 5mm rings and include the white stem which is the yummiest part.
Slice the red chilli longways, remove the seeds and slice again into little matchsticks.
Pick the coriander and roughly shop, never-mind if a few stalks end up in the mix.
Add everything to the bowl of Avo and stir with a fork.
Add salt and pepper to taste.
Check the label on your bag of corn chips to see if they are vegan/gluten-free.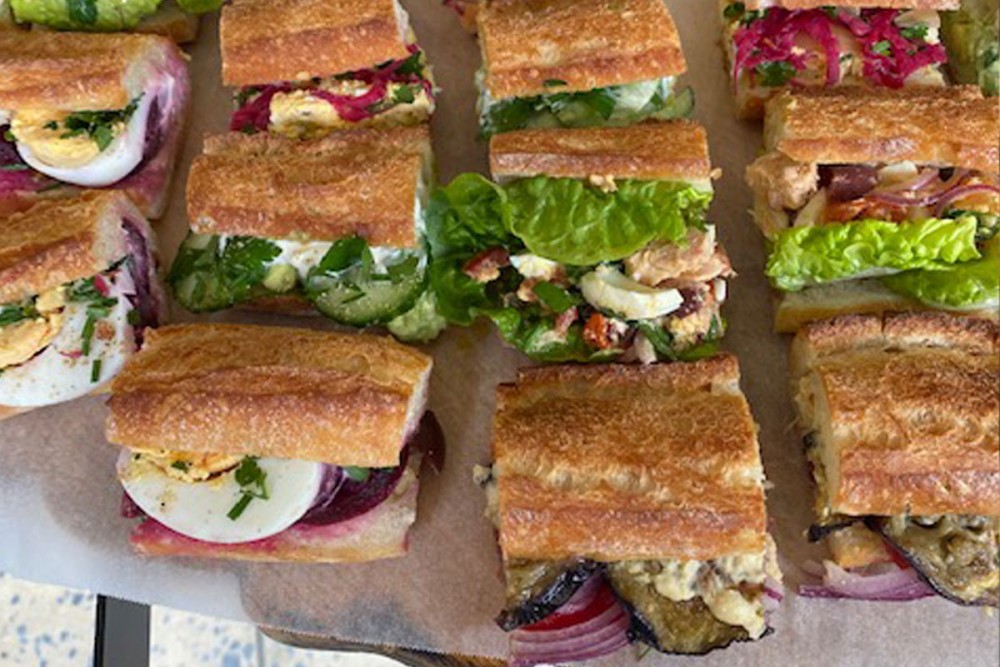 This year I embraced the fact that I actually love making food haha maybe a bit too much! Its really creative, fast and fun and so nice to make people happy.
Sandwiches is kinda my go-to for any occasion really, I love a great sanga; Perfectly balanced, satisfying flavour and excellent composition. Sandwiches are really cool to feed a bunch and I like how they are both snacks or proper lunch too. Or you can just take the ingredients and make it into a platter, with dips, bread and mayonnaise-y salads, and cheeses and pickles.
Just real classic and simple is best… Cucumber and Mayonnaise, or mashed egg sandwiches. Classic recipes like Nicoise salad, Lady Scuttlebutt, or Grecian Goddess haha so damn good! The best bread in town is Vietnamese Bagette from Hook Ponsonby. The most heavenly bread I've ever eaten. It's quite hard to get though, you have to order it as they sell as soon as it comes out the oven.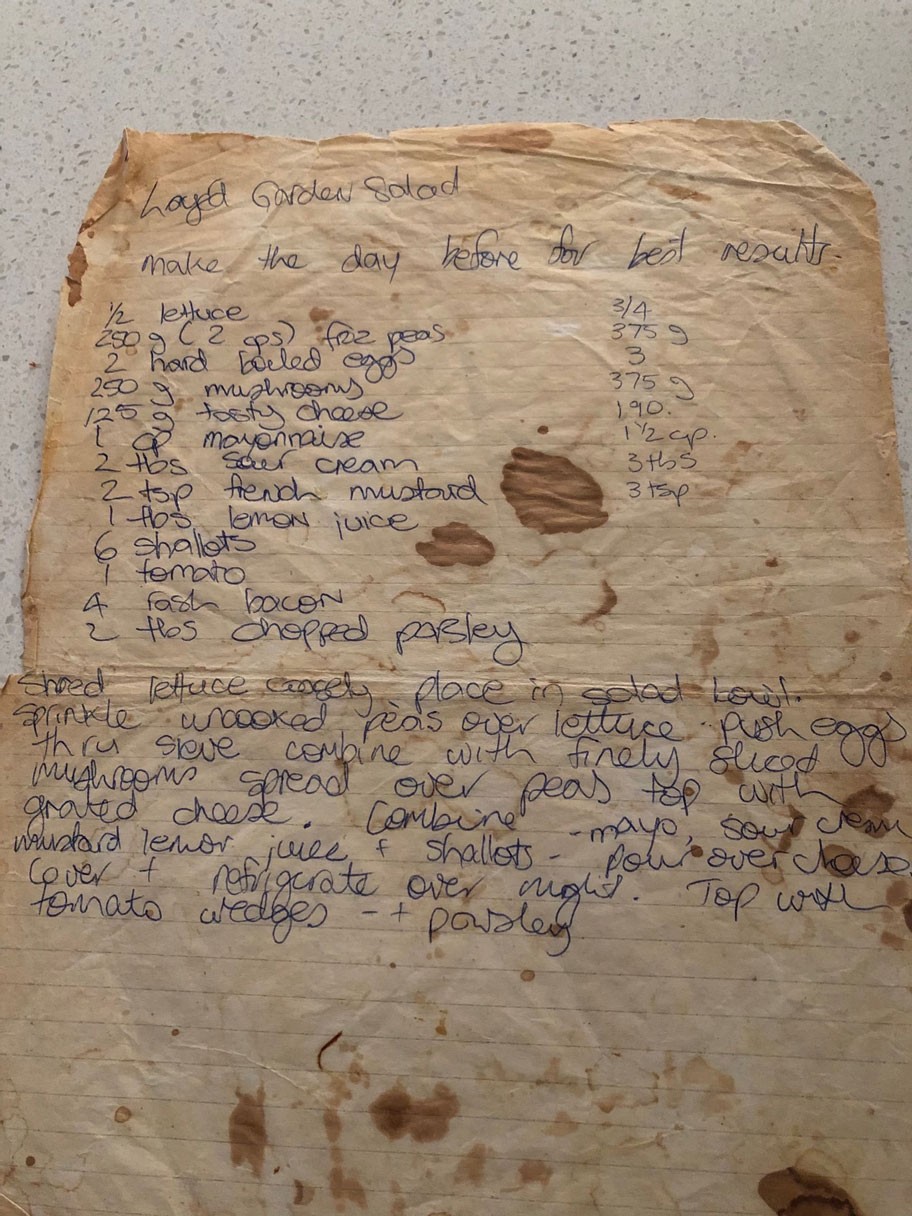 LAYERED GARDEN SALAD - Make the day before for best results
½ lettuce
250g frozen peas
2 hard-boiled eggs
250g mushrooms
125g tasty cheese
1 cup mayonnaise
2tbs sour cream
2tsp French mustard
1tbs lemon juice
6 shallots
1 tomato
4 rash bacon
2tbs chopped parsley
Shred lettuce and place in a salad bowl.
Sprinkle uncooked peas over lettuce. Push eggs through a sieve. Combine with finely sliced mushrooms spread over peas. Top with grated cheese. Combine mayo, sour cream, mustard, lemon juice + shallots. Pour over cheese
Cover + refrigerate overnight. Top with tomato wedges and parsley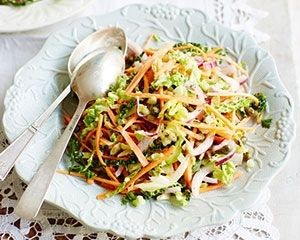 My go-to dish is a Bill Granger Coleslaw. Super quick and easy to make and really easy to make loads of to feed a crowd.
INGREDIENTS:
1/2 cabbage
1 x red onion
1 x big bunch flat-leaf parsley
2 Tbsp capers (rinsed)
DRESSING:
1/2 cup best foods mayo
Juice of 1 lemon
1 Tbsp white wine vinegar
Salt & Pepper
METHOD:
Slice the cabbage really thinly (this is the key to it being a success, really thinly). Slice red onion, chop parsley. Chop capers. Mix altogether. In a jar shake mayo, lemon juice, vinegar and salt and pepper. Pour dressing on the salad and mix through well. So good. Yum.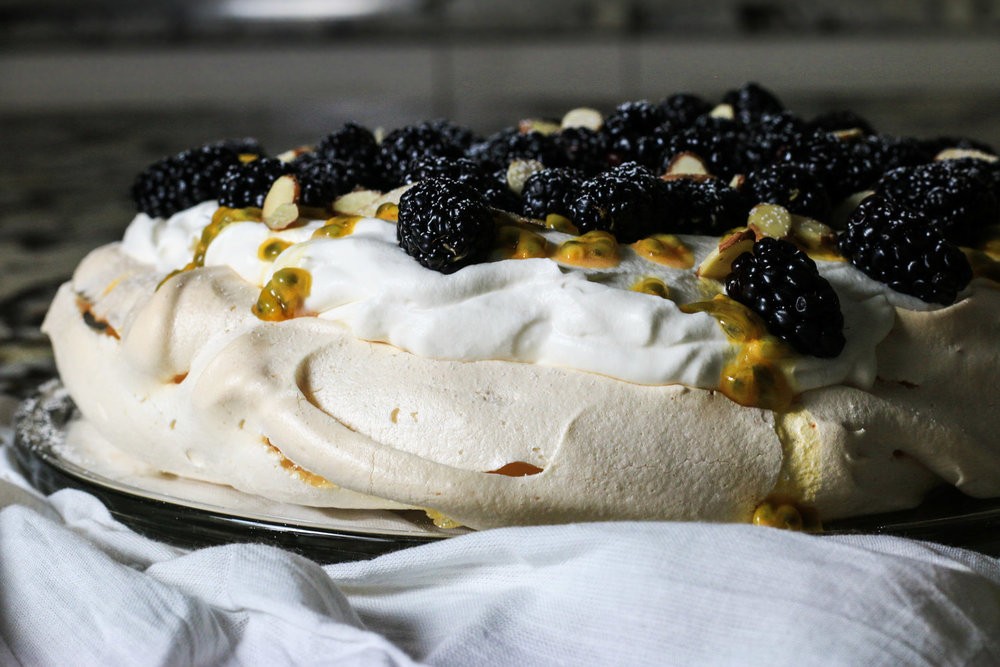 So, I'm not much of a cook (sorry mum) - in fact, the idea of having a dish I made, served up to a bunch of friends and friends of friends to try, then critique is quite frankly terrifying. This is why I love this time of year! It means I can turn up to any summer event with a real crowd-pleaser- the simple, classic kiwi pav. Just a bunch of smoke and mirrors required to create this dazzling festive dessert that never fails.
Classic Summer Pav Recipe
1 x Cowells Pavlova
2 x punnets Blackberries (you can use any berries you like)
3 x tablespoons of passionfruit pulp
1 x handful of toasted slithered almonds
2 x 250ml bottles Lewis Road Creamery cream
2 x teaspoons vanilla paste
Whip cream & vanilla paste with an electric beater until they resemble soft peaks. Save a light hand whip at the end to get the perfect consistency
Wash and paper towel dry your berries
Carefully remove the pavlova from its packaging and place of a decorative plate
Dollop the cream atop the pavlova creating a giant pillow to cradle your berries
Delicately and very precisely pile your berries in a haphazard manner
Drizzle the passionfruit pulp over the berries allowing some of it to casually drizzle over the side of the Pav
Sprinkle with almonds to serve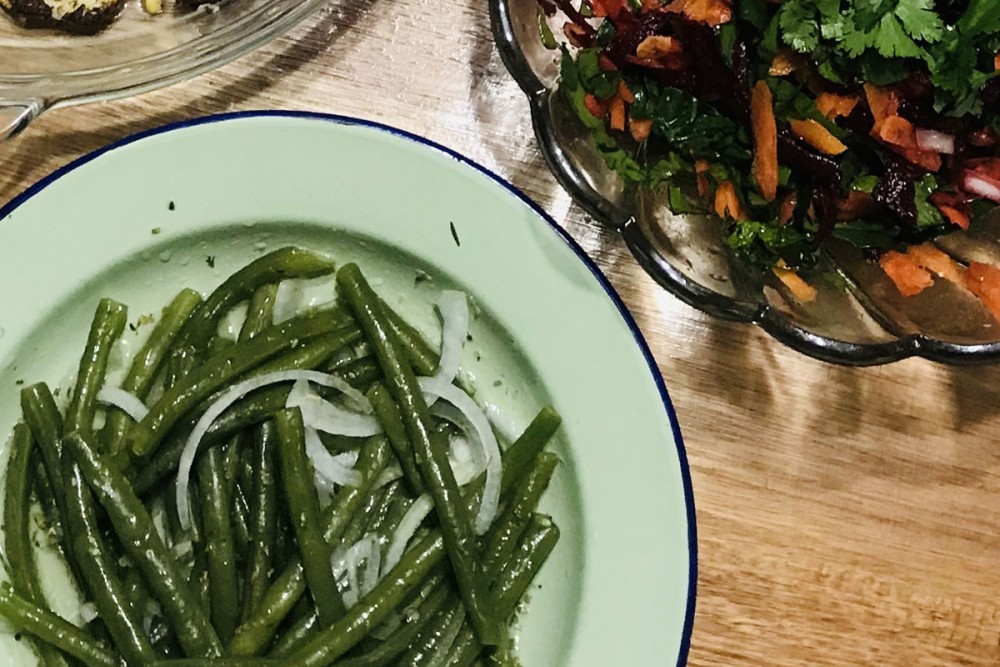 I'm usually the kind of person that will make something for the first time to take to a dinner party - or make a million sides and go overboard. This is one side that I love and is always on my table - It's someones Nonna's recipe that I found in an Italian homestyle cookbook, it's so simple and reminds me of Italy.
Bean Salad
1kg Beans (I usually use 500g) - any kind of beans, ends trimmed
1tbs dried oregano
2 cloves garlic, peeled and finely chopped
1/2 brown onion, peeled and finely sliced
1/2 cup olive oil
1/4 cup white vinegar
Salt
METHOD:
Boil beans until tender (you're not looking for crunch here). Drain and allow to cool for a couple of mins then transfer to a bowl. Add oregano, garlic, onion, olive oil, vinegar, a pinch of salt and stir. Eat straight away or leave overnight. That's it!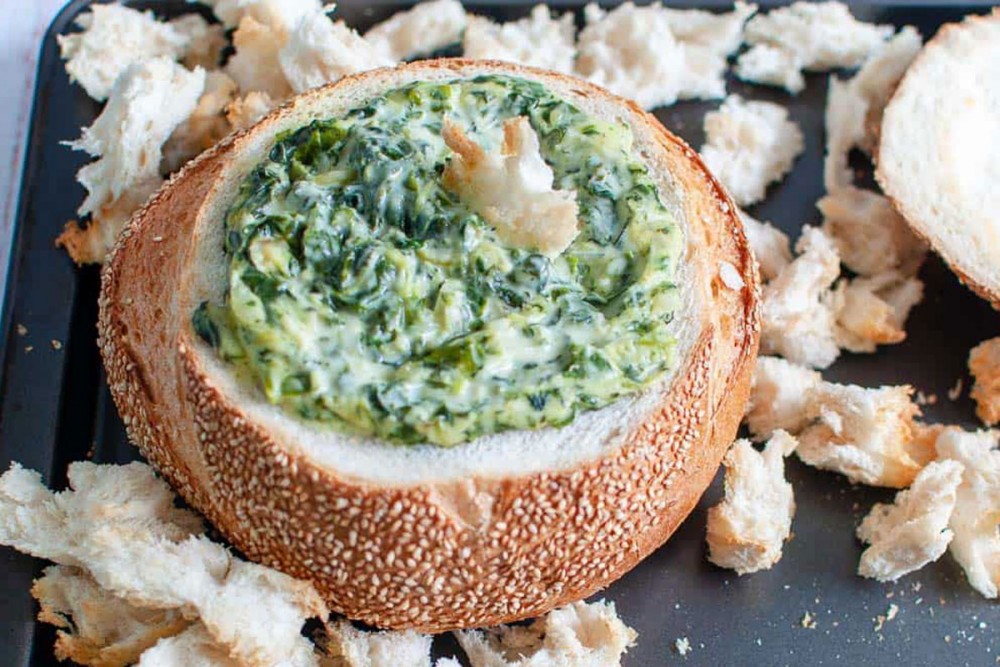 This is a stolen cob loaf recipe that we make, it's rather nice at a little get together with your dearest and nearest. It's something Tau just whips up in a quick jiffy - He says it is best accompanied by Red fantasy, a cocktail of red wine goon and Fanta.
INGREDIENTS:
1 cob loaf
3 cups baby spinach or large spinach leaves sliced
40g butter
2 cloves garlic, crushed
250g cream cheese
250g sour cream
1 cup grated cheese
Salt & pepper
1/4-1/2 cup milk or cream (if needed)
METHOD:
Slice the top off the cob loaf and scoop out the inside leaving a 2cm edge and break it the bread into bite-sized pieces. Arrange the hollowed-out loaf and pieces of bread on a large baking tray and drizzle with olive oil. Bake for 10 minutes at 180°C until starting to get crispy.
While the bread is toasting melt the butter in a medium sized pot over medium heat. Add the spinach and garlic and cook for about 5 minutes until the spinach has cooked down.
Add cream cheese, sour cream, grated cheese and mix together. Cook for 5 minutes or so until smooth and creamy. Add salt & pepper to taste. If you think the dip is too thick, thin it out with milk or cream.
Remove the bread from the oven, pour the filling into the loaf and serve straight away!