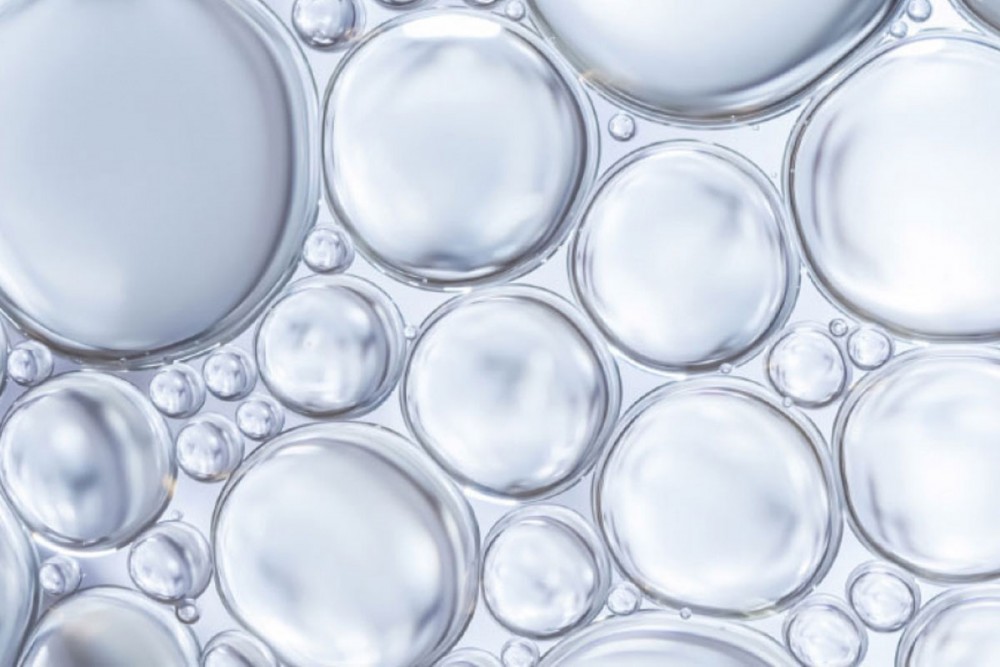 If your hair is feeling a bit crispy or your skin is desert dry, no doubt you'll be reaching for a moisturizing product. That product will most likely contain one of the backbones of beauty - Glycerin - the great hydrator. It works hard behind the scenes to lock in moisture, repair and protects against environmental stressors - and it keeps working long after you apply it.
Glycerin naturally occurs in plants and animals. For topical use, it is a colourless, scentless liquid sourced from plants such as soybean & coconut or synthetically produced. It's extremely common in our hydrating and moisturizing hair and skincare products and for good reason. It's known as a humectant, attracting water to itself from deep within the skin or from the air when it's humid, it's the ultimate moisture-magnet.
For hair, it will strengthen strands and stop breakage, deeply moisturize thick or curly hair and condition a dry scalp. For skin, Glycerin effectively moisturizes and smooths, leaving it soft with a dewy appearance – love that. It combats extremely dry skin and repairs elasticity as well as offering the perfect protection against harsher products that strip our natural oils. It's the secret weapon living on your bathroom shelf.
Satisfy dehydrated hair and skin with these goodies from colleen.
Aurora Face Cream has been crafted to create a luxurious, botanical and moisture-rich face crème with a matte finish. This light-weight crème is super hydrating and will help restore radiance to your skin, giving you a healthy glow. It contains your favourite hero ingredients; Squalane, Niacinamide, Mountain Pepper Leaf, Finger Lime, Green Coffee Bean and Hyaluronic Acid - which works extremely well paired with Glycerin. Apply in the morning or at night.
Glisten Face Essence Mist has been designed as an instant hit of active botanical ingredients. This face mist of Jasmine Water and superfood plant hero's will awaken tired skin throughout the day. We recommend using it on dry, clean skin each morning and night. You can spritz and allow your mist to dry, or gently use your fingers and palms to pat into you the skin prior to applying supplementary serums, oil and creams.
A moisturizing gel cleanser that gently cleanses and invigorates skin with incredible botanic extracts such as Green Tea, Kale, Broccoli, Chamomile and Finger Lime extract. We love it even more because it's packaged in a biodegradable container – made from plant materials.
Getting texture can be rough, but Cactus Shampoo will make it easy. Texture-building particles in the shampoo bring out hair's natural wave and personality while providing grit and grip for easy-to-style locks. The result is thick, robust, 2nd-day hair.
For light, natural and authentic hair, Analog Cleansing Foam is the only step you need for weightless softening and conditioning. A classic go-to for frizz reduction, nourishment and shine. Great for all hair types, especially colour-treated, underhydrated or coarse hair.
A weightless way to prime hair for styling, as well as revitalize your look. This nutrient-rich conditioning spray builds in shine and detangles, all while providing anti-static thermal protection and improving the health of the hair. To use: spray on wet or dry hair before styling, or anytime as a style refresher.
This moisturizing duo highlights the chicest sheen for the ultimate illumination. Shampoo and Conditioner for Brilliance and Shine delivers a fortifying polishing treatment and a big dose of moisture while protecting hair from split ends. After a nourishing wash with the shampoo, the conditioner works to specifically untease knots and tangles without diminishing shine. We recommend this pair if you have dry, damaged or coloured hair.