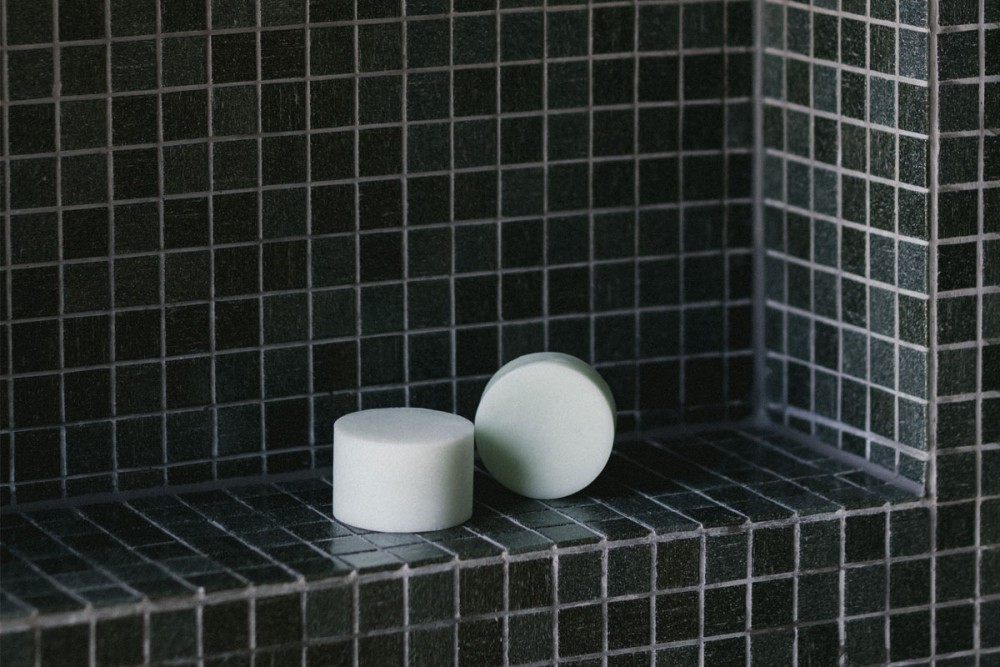 We are so excited to be repping Sphaera at colleen and to kick off we are launching together with 6 brand new haircare bars. Lauren picks up the phone and pops in her earbuds for a long chat with the incredibly articulate, slightly nerdy and inherently caring founder of Sphaera - Ali Johnson. Settle in and enjoy a good read –
Q
Hi Ali, can you tell me about your journey in creating Sphaera.
A
I have always been a maker, with a strong research practice behind everything I do, whether it has been in the art, science or business world. In creating Sphaera's product range I approach it in a similar way to my art practice: by taking something utilitarian and every day that is often overlooked and looking at it deeply, including the historical, scientific and cultural aspects as well as the visual and functional. I am intrigued by the things hidden in plain sight and how we can use them to consciously or unconsciously improve our experiences of the small moments of each day.

Soap caught my attention and I did a lot of reading around how it has evolved as a substance and its role in history, ritual and health around the world. I could see soap was being revisited in a traditional sense with the move away from bottled products and I wanted to really explore the idea of what makes a beautiful soap to use. How could I take everything I had learned and take soap to the next level, one that would surprise and delight.

Suni (my wonderful sister-in-law) was instrumental in Sphaera becoming a brand and business that is in harmony with who we are as people. Our complementary skill sets work so well to create a quiet but considered visual language and identity and she is great at handling so many things I find hard, so I can keep making behind the scenes.
Q
What prompted you to expand your collection into haircare?
A
I have always been an environmentalist, particularly around ocean conservation. Removing plastic packaging is really difficult for a lot of products, but for cleansing products, it's not too difficult. I thought, let's look at these simple products where it's easy to get away from plastic. Mostly though I wanted to be able to have the experience and results of the luxury shampoo and conditioners I loved but I could not find those types of formulations in a solid-state or bar form.

I set out to discover what made the best hair products. I wanted to simply make the best shampoo and conditioner out there, and then work out how to translate that formulation into a bar form. I needed to train further in a new field of cosmetic formulation specific to hair care and source the latest innovative ingredients from around the world. It has taken nearly four years to develop these products to the standard I originally dreamt of, it has pushed us personally and as a small company but we are thrilled with the final result.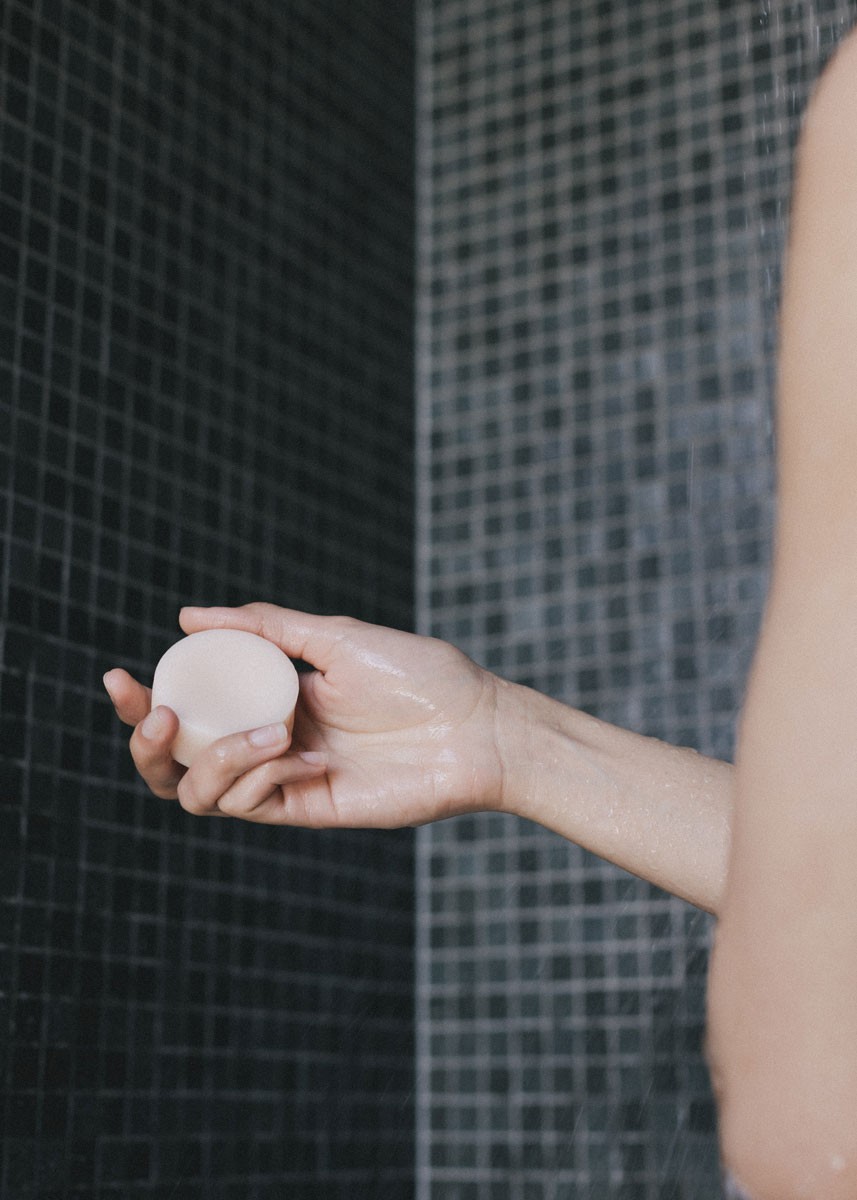 Q
What is your making process?
A
I spend a long time on research, formulation and testing. The hair care bars in particular had over a hundred tests each, it is slow but important to me that every aspect of a product has been fully considered and resolved. For each element of the formula I make sure each ingredient is biodegradable, ethically sourced, and the right percentage in the formula to be optimal, then crosscheck interactions between ingredients.

Each bar is like a story to me. The way I compose them I think about how a person might choose them, the name and the colour, the scent. I take into consideration mind and body effect. Scent profiles of the bars have a complex process to reach a harmonious result for each one. Therapeutic essential oils make up a perfume palette; top, mid and base notes balance to the scent, then appropriate uses for the skin and hair, and then I make sure no oils are in conflict with each other, that they are working synergistically. My hope is that people pick up a Sphaera bar and that it smells and it feels 'right' to them.

Soap bars are made up of plant-based oils, butters, essential oils and natural clays. Each type of oil and butter has a unique fatty acid profile that behaves quite differently. The right quantities of each will create a balanced soap, best suited to its purpose.

For example, the Citrus and Poppy Seed bar is very hard, lathers quickly with big bubbles to wash hands effectively and quickly. It is great for the kitchen when you are working with garlic or something like that. It cleans quickly and fast, compared to creamy Kukui and White Kaolin Clay bar which can be used on your face, or in the shower. This bar has a higher butter content, the bubbles are smaller and closer together and very creamy. It's gentler and takes a little bit longer to wash off the skin and will leave skin softer.
Q
What are the qualities unique to haircare bars when compared to a traditional skin soap bar?
A
The big difference is having the pH perfectly matched for hair and scalp. The pH in a soap bar sits higher and is great for skin cleansing but the hair and scalp need a very different formulation. Sphaera shampoo bars are pH balanced to keep the cuticle flat and cleanse gently so as to not interfere with the delicate microbiome of the scalp. The experience of the shampoo bar that people most enjoy is the amazing lather. It is abundant, fine and quick. That's satisfying and hair feels really cleansed afterwards without being overly so.

To use the conditioner bars, you smooth the bar over the wet hair and then put the bar down. You comb it through gently with your fingers and press it onto the hair. When your hair feels very slippery and detangled that means the hair shaft has been well coated. With a liquid conditioner, people often use too much and a lot of it just goes down the drain. Sphaera conditioner bars effectively coat the outside of the hair shaft and smooth the cuticle down, leaving the hair strong, shiny and healthy. There's much less waste, and much less going down the drain. These bars are also formulated to be a great co-wash for anyone following the Curly Girl Method.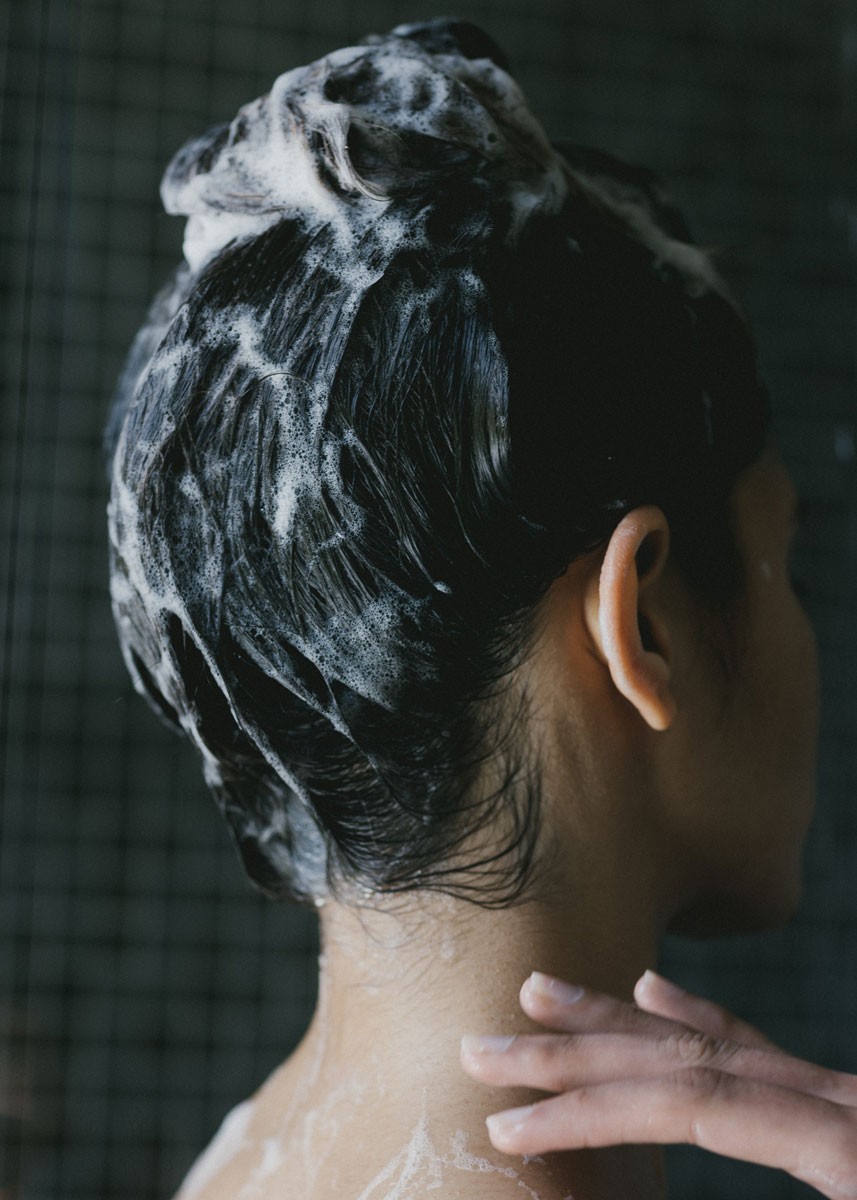 Q
What are the benefits for me if I'm thinking of switching from liquid haircare to solid haircare bars?
A
The idea for me is about not having to compromise, that you could have all the performance of a beautiful premium shampoo and conditioner and you can also reduce your impact on the environment by having it in a solid form. What's most important is that the products perform beautifully and then eco-credentials sit quietly behind that. I truly believe that this is how we build trust in people to switch to more sustainable products, not guilt.

I want customers to know that we have thought it all through - all the ingredients and their impact biologically on their own bodies and the natural world. They can enjoy the product, nothing harmful is going into waterways or creating a flow on effect that is harmful to the environment. The full life cycle of the product has been considered.

In a bottle of shampoo, you have 75-90% water. You could say from a manufacturers point of view solid shampoo bars are not really the best business case. Solid shampoo bars last a long time so people are buying less. 1 bar = approximately 1Litre shampoo that's about 4 bottles, and conditioner bars are equal to 4 or 5 bottles, for some people up to a year of conditioner. We have used the best quality ingredients in our formulas and strived to create an accessible range. I want our products to be within reach of people I know and care about whilst still being luxurious and beautiful.

For my own peace of mind, I also needed our products to offer something authentic and special, with a solid ethical and moral profile behind them.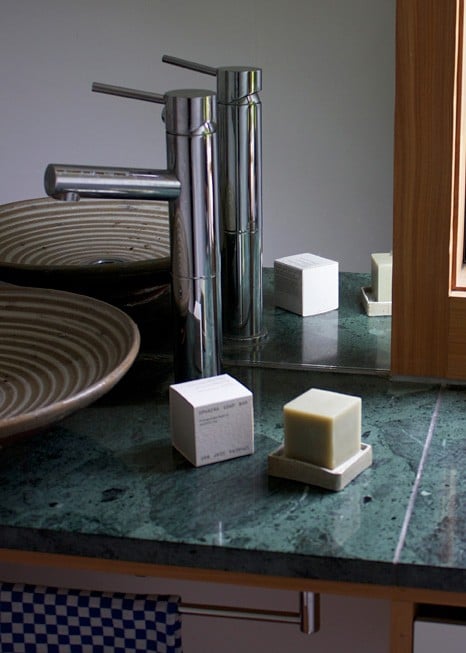 Q
Do you use local or native ingredients?
A
We harvest Kawakawa leaves locally. We have a bush on our property and I have some friends with land and I harvest from there too. We harvest with respect according to Tikanga Maori (customary protocol) of Rongoa Maori (traditional Maori medicine).The whole leaf gets lightly dried which helps to concentrate the volatile/active ingredients and then I do an infusion. A huge pile of Kawakawa leaves will go into a big pot of olive oil, then we strain the leaves out.

The main oil in the soap is locally grown olive oil from the Wairarapa, over the hill from us here in Poneke. I feel super lucky to source fresh from small locally owned olive groves and their collective press rather than have to rely on imported olive oils.
Q
You mentioned colour as being a key element in experiencing Sphaera bars
A
Yes, we don't use artificial colourants, they are all natural. Personally, I don't like to use anything that isn't traceable so we use natural clays - French green clay, pink Australian clay and yellow Brazilian clay. Each has a different action on the skin and also creates a smooth slippery feeling to the bars, so clays are not just a colourant, they are great multitaskers. Clays are good at capturing dirt particles and carrying them away in a soap lather.

I love the way the colours and tones of the two ranges sit together, it is a significant part of the design process as we are creating.

Sphaera haircare bars have tiny amounts of natural colourants to help differentiate between the individual bars. As a bonus in the Balance and Volume bars the Charcoal also acts as a lovely micro-exfoliant for the scalp. A clean, healthy scalp encourages strong new hair growth.
Q
Do you have a nostalgic childhood memory of soap?
A
Yes, I do, apart from the time I got my mouth washed out with it. My grandmother always had a beautiful oatmeal soap on the farm. There were 14 of us grandkids and whenever we came in from climbing in the willows, or playing in the ditches getting covered in mud or working in the shearing shed we'd all line up and have our turn with the soap at the old sink. It is a lovely memory of us all being together and being very wild and free.

For me right now, with everything going on in the world it can be overwhelming. Sometimes it's about just making the simple things better and a little more beautiful while we all navigate the rest.