Q
What are the elements of a hair/beauty product that are most important to you?
A
I guess for me, why I developed Maryse to start with was because I feel like there's a shift away from the mass beauty market and a move toward hand-crafted, honest products. The elements important for me are making natural skincare that is not tested on animals and is free of petrochemicals. It's about skincare that is purer and plant-based, not incorporating anything harmful into the ingredients, finding locally sourced ingredients and not using anything that's unnecessary.
Q
Do you think that people find bigger brands hard to penetrate in terms of where things have come from and what's gone into products?
A
I think everyone's a bit weary now of what's in their skincare. Studies have shown that 70% of products applied to the skin enter the bloodstream so it's not just a cosmetic issue. Most people can read a label now, but there are still hidden ingredients derived from synthetic sources. I've noticed people want pure, nutrient-rich plant-based ingredients. I feel like when you look at a label, ingredients may seem like they are natural and yet they're still derived from petrochemicals or unsustainable sources.
Q
Is it easy to source ingredients that come from sustainable sources?
A
Yeah, I think it is, there's more traceability now. I use all-natural ingredients and because I use plant-based ingredients there is transparency around the origin.
Q
Are natural ingredients able to give our skin the same kick a lab-made ingredient might?
A
I think we need to look at this more holistically and see skincare as self-care. It is not isolated to the skin's surface but to the entire life of the body. I find plant-based products more beneficial for the skin over the long term. I've been using them for years now and I feel like they really benefit the skin because they are so unrefined. I'm working on a new product and we're using green chemistry.
Q
Um, what's Green Chemistry?
A
Using ingredients made from renewable resources, not made with petrochemicals or from synthetic sources, 100% natural AND active.

The new product I'm working on is a face cream. It's naturally-derived and there are no synthetics in it and it's active. It contains hyaluronic acid and vitamin C from a natural, non-synthetic source. It's quite easy just to put in synthetic actives so you really do have to do your research and dig deeper to find a natural source.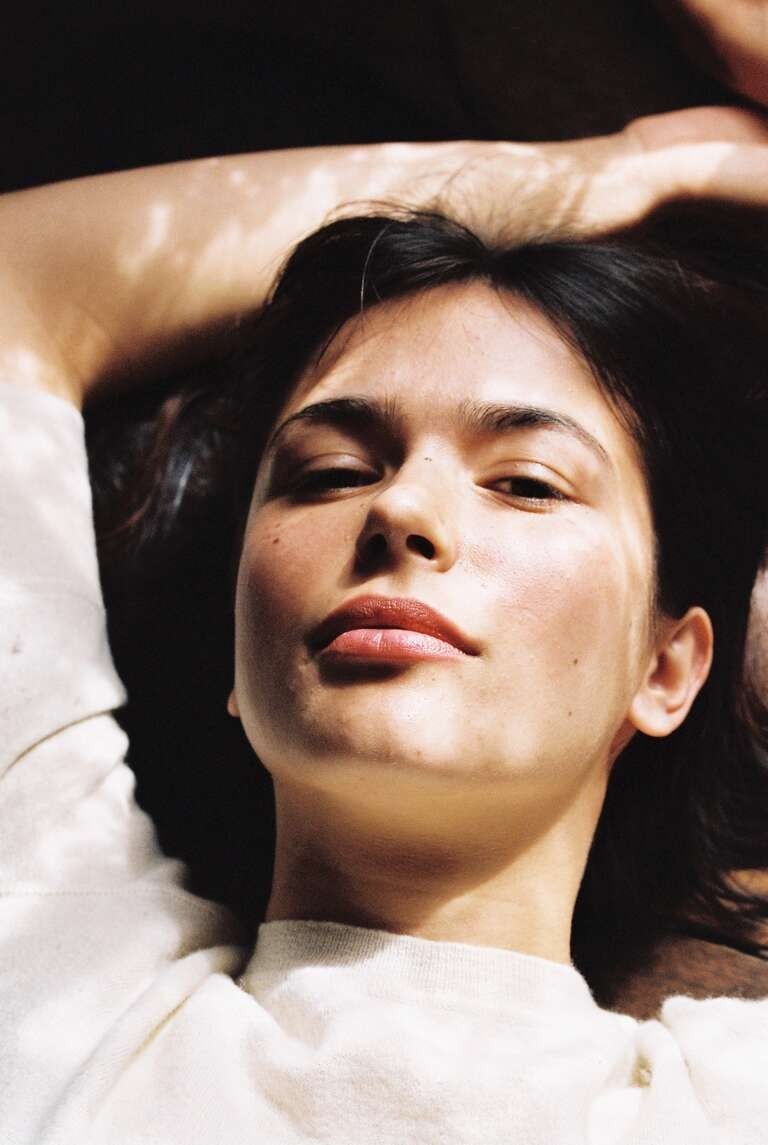 Q
How did you get into making skincare?
A
I was a facialist for years, and I was working with some big beauty brands and cosmeceutical brands. The more I looked into it, all the ingredients were synthetic, and I could hardly pronounce the names. You probably have that with haircare too, right?

Working with these finished products felt so far removed from these big brands in America or Europe. It was nice to start doing my own research and development. I started incorporating plant-based actives in my facials and from there I developed my Bio-Nutrient Face Oil first and then my Enzyme-Refine Cleansing Balm. I like the handcrafted, slower process, it's more thoughtful and pared back.
Q
What is your making process?
A
Yeah, so actually in a couple of weeks we'll have finished building our purpose-built blend studio, you'll have to come and see it.

It's a lot of play. The Blend Studio is a room full of all my organic plant oils and organic butter and beeswax and all my ingredients plus beakers and mixing bowls. I formulate everything there and also do my production from there. Products are labelled and sent out. It's very transparent, someone could come and see the whole process.

I'm not a perfectionist by nature, but when it comes to making products, I am. It's quite precise. Making the Mineral Tints took time to get the right colour and the right formulation and consistency, experimenting with botanical extracts and infusions and plant oils in the right combinations. It took two years for me to feel like I was happy with them.
Q
Have you considered having an open studio?
A
I've thought about that, I'd be happy because everything is such a natural process. I love the idea. Because Maryse is all handcrafted, small-batch, the efficacy is there and I can make everything up really fresh, and I like that as a practice.
Q
You have lots of experience with skin, what do you think is the most common skin concern for New Zealanders?
A
Sun damage, definitely - in New Zealand and Australia, which I think differs is from Asia or Europe. Wearing SPFs to protect the skin. Incorporating vitamin C and hydrating actives into the skin really helps. As we get older any environmental damage appears on the skin. Plant oils are full of vitamins and essential fatty acids and a whole lot of actives that help on a daily basis to boost the skin. When you're exposed to environmental damage, I think what's important is that your daily practice… your daily ritual… is applying these actives into the skin.
Q
What are your favourite local ingredients?
A
My favourite ingredient is in my Manuka Leaf Exfoliating Polish.
Q
That's my favourite product. I put it straight on my skin in the shower. I love it.
A
Oh cool, mixed with the cleanser it's a deep cleanse because you get exfoliating properties of the cleanser too, but my favourite ingredient is the Manuka leaf that's in the polish. I wanted to incorporate a New Zealand ingredient. It's wildcrafted and sustainably harvested. It's harvested and finely milled for me. It has antibacterial properties; is really detoxing for skin and is anti-inflammatory. And I love that it's locally sourced from the East Cape.
Q
Do you have a top selling product in the range?
A
I kinda have three. My Bio-Nutrient Face Oil which I've had from the beginning. It's my first product. It's a conditioning oil that suits all skin types and is a non-oily oil so is really absorbent. That's my number one matched with my Enzyme Cleansing Balm. And that's because it's suits all skin types again.

A lot of cleansing balms are heavy, and they stay on the skin and are really waxy. Enzyme Refine Cleansing Balm has a natural component that washes off. It's gentle, it takes off all make-up, and it doesn't strip the skin of oils and is lightweight. These two are my top-selling combination.

Mineral Dew has become popular too.
Q
It's also one of my faves.
A
There are a lot of natural skincare luminizers or highlighters and where you put them on the skin, they have glitter in them or purple iridescent qualities. I didn't want that because I don't wear much make-up. I wanted wearing Mineral Dew to feel like you've just had a facial, that kind of glow: a post-facial glow. Something that transforms lacklustre skin.

I've got a mask idea coming up and a face cream, which I'll give you a sample of. It's an active hydrating cream. With skincare, a lot of people think that you can't use actives unless they are synthetic. I've formulated one that has natural actives and is super effective which I'm really excited about. I'm working with a natural perfumier on the scent at the moment, so that will be out in spring.
Q
You can test anything on me! Do you have any recommends for cooking up a quick mask at home in the kitchen?
A
From the pantry? One thing I did discover the other day uses my Manuka Leaf Exfoliating Polish. If you mix it with some good quality Manuka leaf honey and put it on your skin and leave it for 10 minutes, it's an amazing mask.

It's got the antibacterial properties of the Manuka leaf mixed with the hydrating properties of the honey. It's a hydrating boost for skin, they complement each other well. And if you don't have The Manuka Leaf Exfoliating Polish you could try clay or spirulina.
Q
What's on your shower shelf?
A
My shower shelf is quite minimal. I use Evo The Therapist shampoo and O&M Maintain the Mane conditioner. I bought a Gua Sha from Colleen. I keep that in my shower. I'll put my cleansing balm on and jump in the shower and massage my face, my cheeks and my jawline, and I do that every shower.
Q
I'm all about doing my beauty in the shower.
A
It's so good. When I get out, I always use Botaniq hair texturiser, Maris Sal Mist. That's my go-to, that's all I ever use my hair.

I like to keep things simple. Maryse is about good, everyday essentials you can incorporate with your existing skincare routine or use the whole collection. As I'm getting older, it's at less about make-up and more about skin care, that's what I'm into.
Q
Have you ever had a terrible haircut that you would never repeat again?
A
Back in the day, when I was a teenager, I had a terrible variation of the Rachel cut. So, it wasn't the Rachel cut, it was a variation, and it was horrible. It was shorter, like a bob. If it was the normal Rachel it would be kinda funny. And now I like to keep my hair completely natural and very simple.