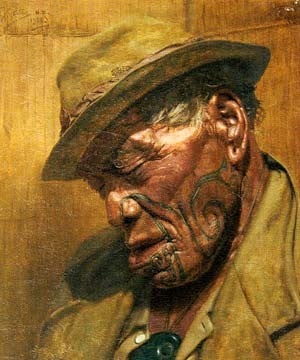 My journey of discovering my heritage started while studying social work at Auckland University. I needed to go back and find my family history and family tree. I always knew I had Maori blood from my mother's side but wasn't completely sure as my mother was from a time where she wasn't able to talk openly about being Maori. Through my research, I discovered I am a descendant of Hori Pokai the chief of Ngati Poua. Hori Pokai's daughter is my great, great, great, great grandmother.
I'm a hairstylist now and have always loved hair and especially a natural approach to it. I also like the idea that there is a spiritual element to our hair. The head has been long established with being tapu. A person of higher status such as a rangatira is traditionally meant to be the person to dress hair. Wide-tooth combs, oils and clay were used to create hairstyles, sweet-smelling titoki berries that had been pressed are thought to have been the best oil for hair.
Top knots, which is a generic way European writers described the hairstyles, were a favourite among high ranking Maori. Some that are known are tiki, putiki, tikitiki, tuki, koukou and rahire. The head is the most tapu but also where a strong connection to your mana was held, is often adorned by feathers, leaves and flowers. Maori men of high stature often wore their hair with a bone or wooden combs. Following colonization, Maori men started rocking shorter looks and women had started wearing bone in their hair.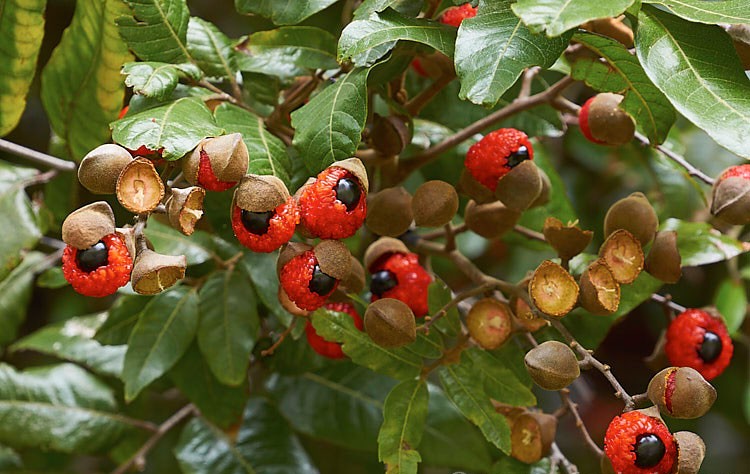 Maori women began wearing greenery as a sign of mourning, making wreaths or Taua from locally available plants like Kawakawa. Having your hair unkempt or rapa mamae was also a sign of mourning and generally an indication for grief.
Tikanga for not cutting your hair while hapu is thought that you shouldn't cut your hair to ensure your unborn child will be able to receive your energy and strength to aid in the growth of the baby. In the salon, it's not unusual for me to keep a clients hair for them after pregnancy, to then take home to bury. I also like the idea of not cutting your hair during a time of grief, then when the time is right to cut that part off and take it home to dispose of correctly, either by burying or burning.
Today the "top knot" has made a massive comeback. We see a lot of men and women rocking this look across all cultures. Women still practice the tradition of not cutting their hair while hapu, which has been passed down through generations of Maori. We still use of bone carved combs as adornment for special occasions and tangi, as well as the use of feathers and greenery. I like to think that instead of a rangatira cutting your hair it is now your hairstylist. I hope to incorporate Tikanga Māori more in my work and see it used in salons across Aotearoa.
BY PHILLIPA HOFFMAN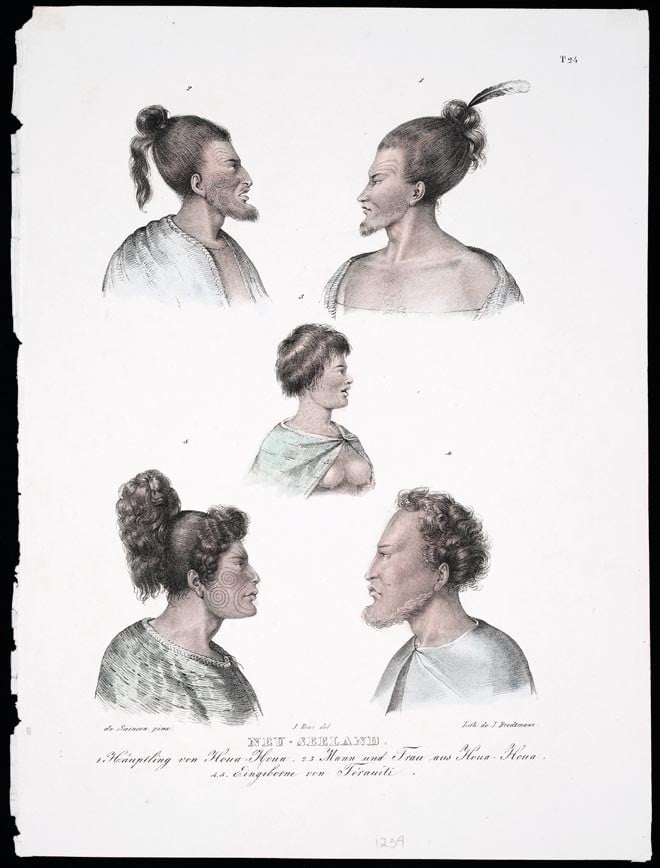 Louis de Sainson, the artist with French explorer Dumont d'Urville's 1826–27 expedition to New Zealand, made these portraits of Māori from Tolaga Bay and Cape Terawhiti in 1826 - viateara.govt.nz