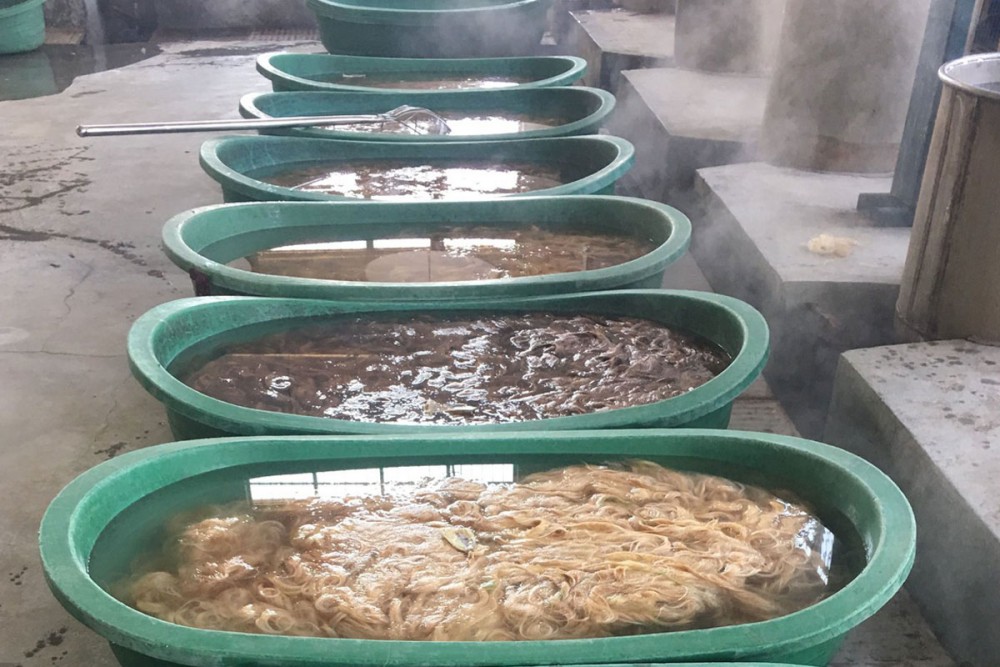 By Tara Young
The hair trade exists all over the world and as an industry, it's thriving, with hair extensions being popularized by pop stars and reality TV icons alike. While these days, you can get high-quality synthetic extensions, human hair is obviously favoured for its longevity and realistic similarities to the wearers own hair or hair they wish they had. There are countless salons worldwide working with hair that has been ethically sourced, usually purchased from reputable companies or working with hair traders who act as the middlemen for the people selling and the companies purchasing. But who exactly is selling their hair? And why?
In many cultures, hair is more than just something fun to brush, style and make you look cute every day. It holds major significance, rooted deeply within their identity, signifying religious beliefs and even sacrificed in rituals - and in case you didn't know, these are some of the people whose hair you might be clipping in and flipping around.
Hair extensions don't have the best reputation in terms of traceability but that hasn't stopped the multi-billion dollar industry from booming, nor the Kardashians showing up on social media with a different length and colour every other day. The lucrative human hair industry is worth about $7B+ worldwide - this figure is inclusive of all uses of human hair, such as and most commonly wigs, as well as; calligraphy brushes, suit linings, furniture, cleaning up oil spills and even an amino acid called L-Cysteine which is extracted from human hair and used to make the dough in your McDonalds, in cosmetics, and hair products.
I came across a 'Shady' video on Refinery29, which begins with a wigmaker – who makes wigs for the likes of Naomi Campbell and Nicole Kidman – stating that she and many others in her industry can't trace the source of the hair they work with. At the time, I didn't really pay it a second thought. I went on to read stories of women being held down in the street while their hair is cut and stolen, or reportedly being taken from women in labour camps in China, and I decided it deserves a second thought, I was curious.
What I discovered is that the human hair industry is largely unregulated. Sources of hair used for hair extensions and wigs are pretty much untraceable; there is some conflicting information, a few lies and a fair amount of 'white labelling' that goes on, but with that being said, there are thousands of trustworthy companies who accept donations, who pay a fair price for hair and whose mission is to help those in poverty by giving people jobs or working directly with hair traders who travel to buy hair directly from willing doners – which for the consumer comes at a much higher price compared to the price the hair is originally sold for at least.
TYPES OF HAIR / KEYWORDS
Remy Hair: Human hair collected directly from a hair donor with the cuticle still intact.
Virgin hair: Hair that is completely unprocessed and intact – it hasn't been altered by dyes, perms, bleaches or harsh washes
Non-Remy Hair: Has both the roots and the tips mixed up so that all the hairs are not running in the same direction. This type of hair undergoes the shaving off of the cuticles or sometimes the ends of the hair and a machine is needed to untangle it. Non-Remy hair comes at a lower price point, it's popular and readily available.
100% Human Hair: Typically collected from hair brushes and hair that has fallen on the floor. It is in greater supply and is therefore much cheaper than Remy Hair. Most of the human hair sold today is non-Remy hair because of the method of collection, the cuticle for each hair strand tends to be in all different directions.
Hair Broker/ Hair trader: Buyer and seller of human hair
WHERE DOES IT COME FROM?
Majority of the worlds Virgin Remy human hair comes from China and secondly from India. Below are just a few examples of how hair might be sourced; these are not exclusive to the countries and people featured below, most are in fact heard of around the world.