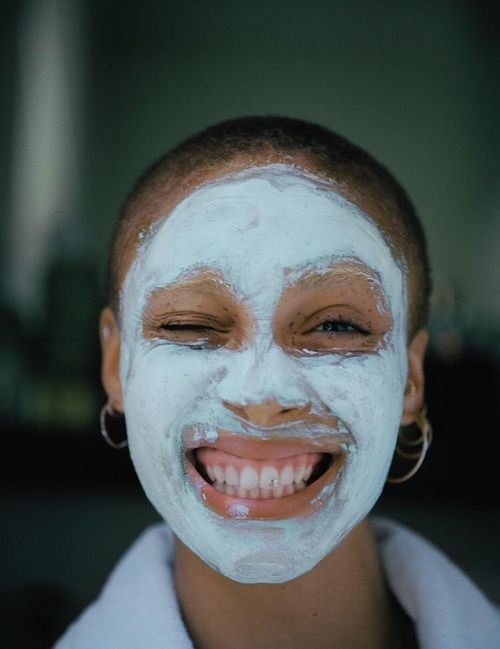 A facial is always at the top of the list when it comes to 'self-care' luxuries. It takes approx 3 seconds to fully unwind and embrace the moment when you're in the capable hands of a facialist. OMG, it's an hour of bliss for your skin and your mind. While it's not always possible to get to the spa as often as we would like, it IS possible to recreate a spa moment at home.
Lock yourself in the bathroom, light your favourite candle - this calls for that expensive one you got as a gift but don't want to waste - and dim the lights... let's get started.
Difficulty: Easy
Time Required: About 30 minutes, but take as long as you like.
STEP 1 - DOUBLE CLEANSE
Always begin by prepping your skin. Double cleansing is a great way to ensure your makeup and any trace of product have been removed - you want your face sparkling clean! Start by using Salt By Hendrix Oil Cleanser, applying a small amount onto a dry face, neck and decolletage. The oil will gently melt away makeup. Add warm water to emulsify the oil into milk. Rinse and gently wipe the face, neck and décolletage with a clean cloth. Next, apply Salt By Hendrix Gel Cleanser to damp skin and massage to remove residue left by the oil and for an extra deep clean, then rinse using the warm washcloth and pat dry with your towel.
STEP 2 - EXFOLIATE
The second part of your skin prep. Exfoliating helps to remove the top layer of skin cells and excess oils to reveal clean, radiant skin. This will also ensure your products can penetrate your skin effectively – exfoliate to get the most from your facial!
STEP 3 - MASK
Time to relax. Start by picking your player, choose your mask based on what outcome you want for your skin. For an intense boost of moisture and an immediate glow, we reach for Salt By Hendrix Crystal Waters - ideal for dull-looking skin and uneven texture. It also contains an abundance of antioxidants, Vitamin C, bioactive ingredients and can assist with inflammation and pigmentation.
To detoxify and reduce irritation, Salt By Hendrix Rose and Acai Facemask is our go-to for a soothing, smoothing experience. This Antioxidant-rich, detoxifying clay mask harnesses the power of Acai berries and Rose to combat dull and dry skin, leaving you and your skin feeling fresh, smooth, and moisturised. Mix 1 teaspoon with water onto a plate or bowl until mixture turns into a paste. Using the mask face brush evenly apply the mixture all over.
Leave your mask on for Step 3 and Step 4
STEP 4 - STEAM
This sounds like you might need to book an appointment with your facialist or maybe some fancy tool to really reap the benefits, but all you really need is: 1x bowl, 1x towel, Hot water and a few orange slices for the ultimate at-home spa experience chefs kiss
Fill your bowl with hot water and position your face over the bowl. Pop the towel over your head and the bowl so the steam can't escape. Meditate here for 5 minutes – this will help to open up your pores, soften skin and relax your mind. Alternatively, you can soak a towel in hot water and put it over your face for a few minutes to get similar results. Once the 5 mins are up, rinse your facemask off using a warm washcloth and gently pat dry with a towel.
STEP 5 - MOISTURE & MASSAGE
Alright, let's hydrate! Prime your base; layer on your favourite hydrating facial serum. We're going to massage the face and neck using a Salt By Hendrix Rose Quartz beauty tool – this will help with the penetration of skincare products and promote circulation.
HOW TO USE
Using light pressure, massage across the face and neck using the below technique for at least one minute (3-5 minutes is ideal). Jawline: gently sweep from the chin along the jawline in an upward motion towards the ears. Neck: gently press at the base of the neck above the collar bone and move Gua Sha in an upwards motion towards the jaw. Cheeks: gently press from the centre of the face and work outwards towards the ears Brows: gently sweep across the brow line starting from the centre and working outwards. Forehead: gently sweep in an upward motion towards hairline. We always recommend being gentle and using light pressure to avoid any bruising on the face.
STEP 6 - MOISTURIZE
Complete your express at-home facial with your favourite moisturizer, apply to your decolletage, neck and face. Your skin will be nourished and radiant ❤️