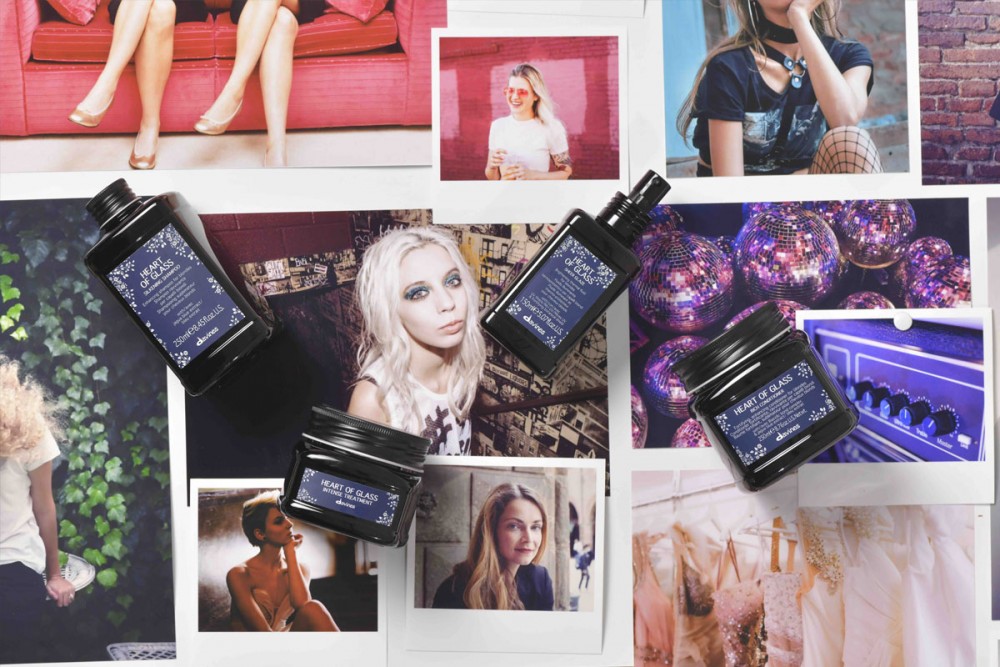 We know that blonde hair can take a real beating from bleaching, sun, salt, chlorine, limescale, hot tools and frequent blow-drying and now Heart of Glass by Davines is here to restore the beauty of your blonde hair, revive shine and keep your hair cool and moisturised to boot.
Heart of Glass contains four essential products: Silkening Shampoo, Rich Conditioner, Intense Treatment and Sheer Glaze Illuminating Thermal-protective Fluid.
It's like your favourite pair of blue jeans. The unique indigo colour in Heart of Glass shampoo and conditioner is derived from a very special ingredient, the natural extract of Jagua.
The blue from the Jagua extract in Silkening Shampoo guarantees a delicate chromatic balancing of the shades and is perfect for all types of blonde. It can be used at every single wash as there is no risk of chromatic overload. That's fancy language for no weird blue build up in your hair.
Rich Conditioner. Enriched with an innovative natural extract from Baobab seeds, this ingredient is the botanical alternative to the use of silicones, since it helps moisturise and discipline the hair, making it more nimble and soft to touch.
Sheer Glaze contains a new natural active ingredient - patented at the Davines Labs - sourced from the Scandinavian fir. This botanical shield comes from fibres taken from trees grown in sustainably managed forests.
The Biacidic Bond Complex present in Intense Treatmenthas an extraordinary effect on hair, strengthening with a preventative action and repairing the damage at the same time.
Like all Davines products Heart of Glass meets rigorous environmental standards. Jagua fruit is sustainably grown in Columbia to preserve biodiversity. Heart of Glass is produced in Parma Italy using 100% renewable energy and post-consumer recycled plastic. CO2 emissions generated during the whole life cycle – excluding the usage phase – are compensated through EthioTrees Project