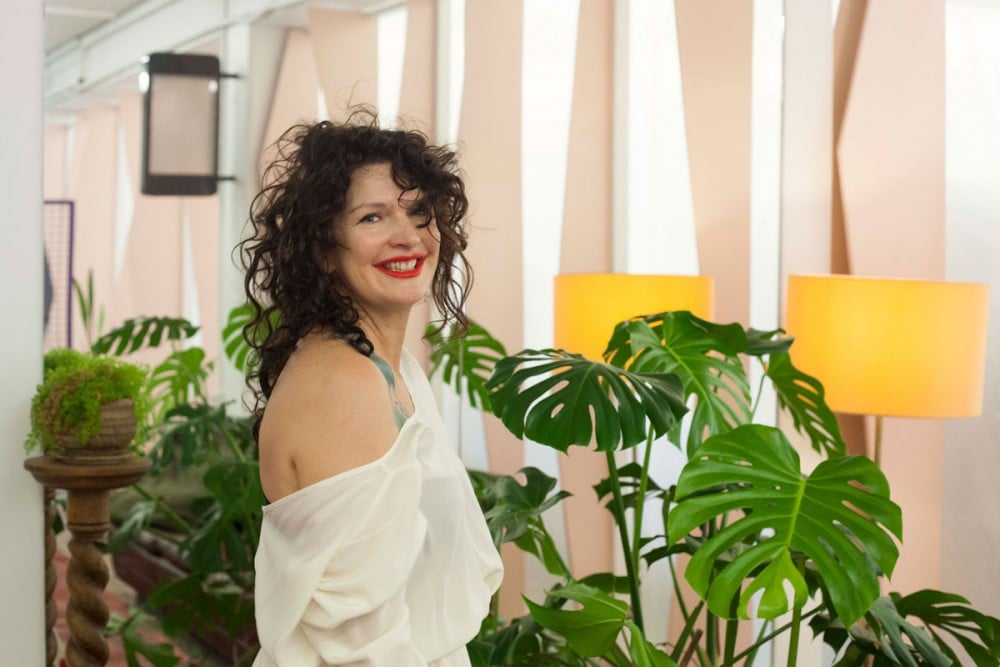 Q
Your personal style is pretty iconic, so iconic that you created a successful career out of it. What influenced the direction you took?
A
Haha, thank you. My style kind of always has been a bit different or unique. Early on I always just wanted to be free from like, constructs. Especially dressing. Discovering art history and contemporary art, as well as music, Margiela and Vivienne Westwood in the '90s exposed me to this whole other life… the creative life.
Q
Through business, family, and life, how has your style evolved and changed over the years?
A
I have naturally curly dark hair - I get it from my father's side; my grandmother Gloria and it has seen so many incarnations! O lordy. When I was studying fashion in the '90s and then came on to the AK scene in 2001 I was really talking loudly through my style ha and it was very experimental as I was finding my way, my voice and my place I guess you could say. And also just having fun and pushing boundaries.
When I started having my children, it gave me the time away from the studio and business to subconsciously refine my style and ideas and maybe slow down and refine a bit. My style just became extra fluid and simple… I needed clothes that suited my busy life with lil babies and changing body and more earthy beauty.
Now that the kids are older and I've had some divine time off from business, its time for the next thing, in harmony with life and nature .. nothing more nothing less. Obsessed with bodies!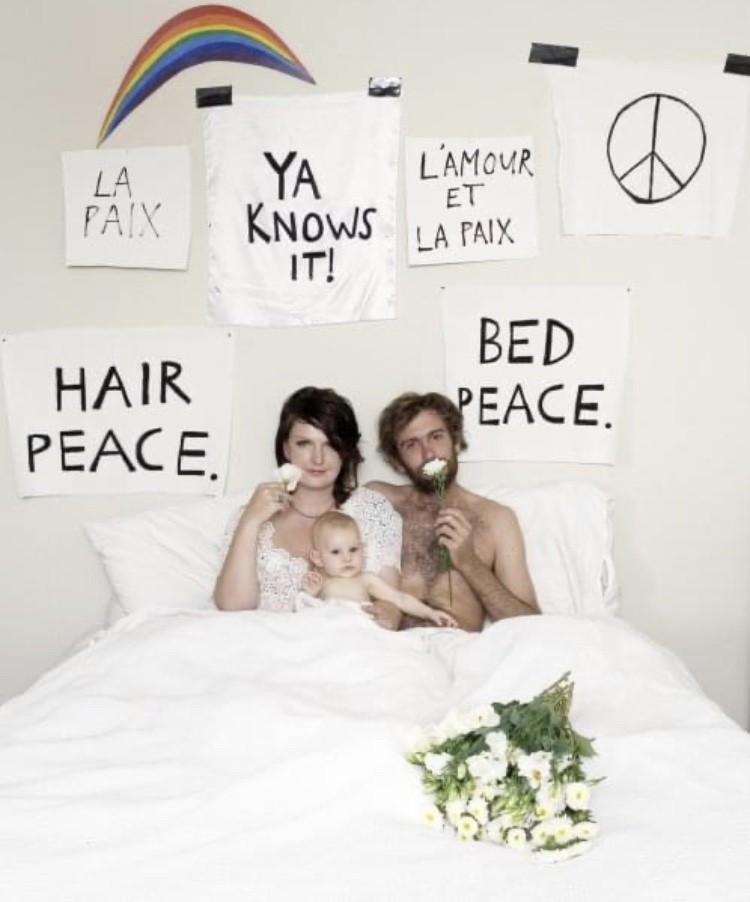 Q
How has life changed since you closed the doors of Miss Crabb in March 2018?
A
It has been pretty busy actually, so much change! It was a bit of a major winding everything down and being a solo parent to my three kids. Since closing Miss Crabb I've been able to concentrate on other things in my life that needed work. I have just loved having a break from business and I have loved having more family time.
Q
As a mom of 3, how do you find time for yourself and what does it mean for you?
A
Its a bit crazy sometimes and its the best too. As the kids are a bit older now they are independent and such great company. Early morning meditation and exercise/yoga before the kids wake up is heaven. It sets me up for the whole day. Also going out in town, seeing music and people is pretty inspiring too.
Q
You're in the process of launching a new project, Gloria. OMG! Can you share a little bit about what's to come and what we can expect to see?
A
Yes! I'm really excited to share work again with ya'll. My main focus with this project is to keep the creative energies flowing alongside my family and personal life, so a lot of it will unfold as I go along. I want to keep making interesting clothes, as well as base garments; the dream underwear pieces for your life! As well as merchandise and whatever I feel like making. I have developed a beautiful parfum with Tiffany Witehira of CURIORNOIR. I am SO excited to share with you.
Q
You won't be following the traditional fashion business model with Gloria, why did did you make that decision?
A
I kind of never have really, more out necessity and freedom than anything else. Our pieces have never really fit into any kind of fashion system because I see them as such timeless and high-quality pieces to keep forever. I want my work to be as sustainable for me and my family, my team and everyone we work with.
Q
Gloria is close to your heart, and home – what are you most looking forward to with this new project?
A
Ah so much! Im really looking forward to seeing our beautiful customers and clients again and meeting new ones. I'm excited to have a lil team again working on everything and just simply the joy (and pain!) of making and putting work out again. And I'm excited to be setting up my home studio and working from there amongst my kids and family life. I looking forward to getting to work with our wonderful suppliers and collaborators in the creative world. Bringing everything that I love together. A beauty resistance!
Q
We all have memories of significant moments in our lives that evoke specific details; an outfit, a haircut, times and places. What are some memorable times and looks for you?
A
Ooo too many! In the '90s at high school and fashion school, I shaved my head a bunch of times… I loved it. So strengthening and good for a style overhaul and just a straight-up great look. I would emphasise makeup, or jewellery or eyewear or super femme dressing. One time a friend said ' who's that hot guy?' lollllll thank you.
Also in the early years of Miss Crabb, I was platinum blonde, it was so fun! #blondeambition. I think it left a lasting impression as people tended to think me as blonde for many years after, despite going natural dark brown just before I started my family in 2006.
When I started having my kids I lost my curls because of the hormones I guess! I had kind of always dreamed of having just wavy bed hair rather than a big bushy silhouette all the time, ha. I loved having smooth hair for once.
The curls came back thankfully, and now I just do my natural dark curls which is very low maintenance and I think it suits me the best! Now I just experiment with hair cuts and silhouettes… curly mullets, curly bobs, long curls and Edwardian-style up-do's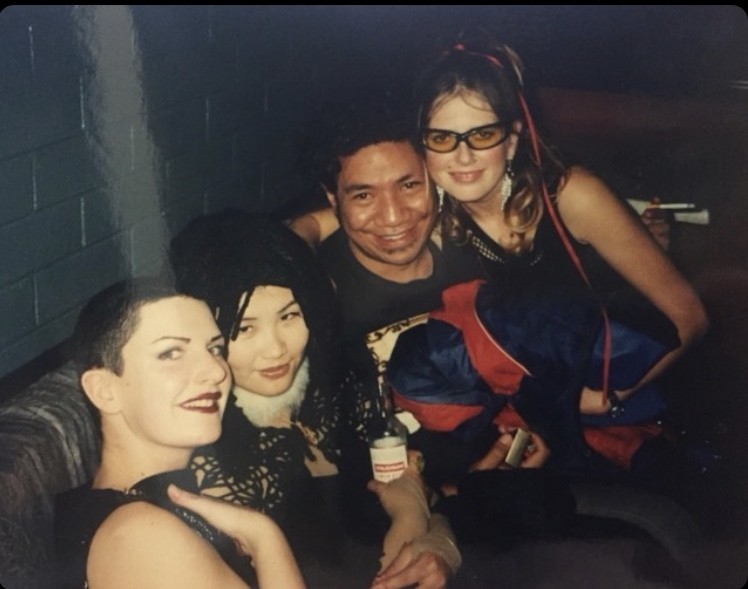 Q
Any major hair lols or regrets?
A
OMG, no regrets but definitely cringe/lol. At fashion school, I was going for a goth Elizabeth 1st so I had orange curls but then shaved a centre part to make it severe. It was a pretty 90's punk time.
When GHD straighteners first came out in like 2002 my friend used to make it straight which I loved at the time! So edgy! Also, I tried to go platinum blonde again but was just a coppery mop. But I still loved it.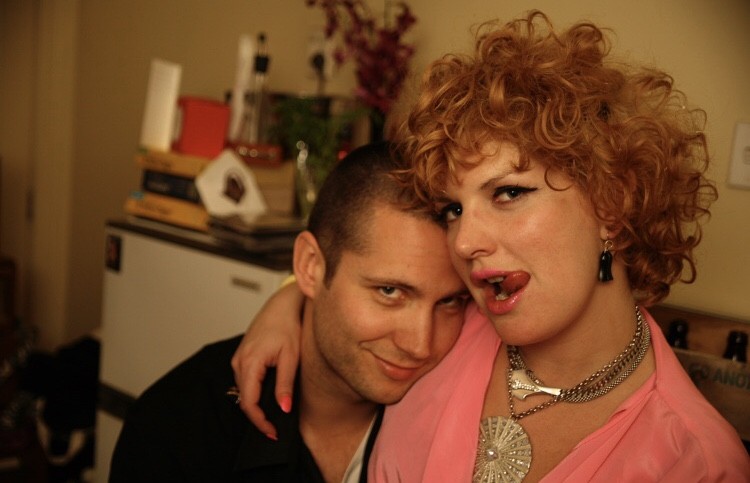 Q
Someone once referred to your hair being "as soft as a pillow" lol (I wish I remember who said that) – how do you keep your curls so lush?
A
Haha, thank you (it was my dear friend Cat Chapman). My hair went curly when I was 13 (hormones? ha) and I had no idea how to manage so I just kept brushing it as usual, but it was just embarrassing frizz. I soon worked out that leaving in the conditioner and having as much moisture as possible made the curls thick and lush and quite ringlety. So yea, I've been leaving the conditioner in and experimenting moisturising treatments for my hair for almost 30 years. Just wash about once a week, leave conditioner in and dry naturally and voila.
Q
What's your ultimate hair hack?
A
Yea, leave the conditioner in and hairspray upside down once a week, to make it nice and big.
Q
What's something you do that your hairdresser hates?
A
Probably everything? From home hair cuts, supermarket dyes and leaving in my conditioner, to platinum blonde requests every few years.
Q
What products are on your shower shelf?
A
Davines Love curl is pretty amazing! I'm loving what it's doing for my hair at the moment.
Q
We are so excited to see what you do with Gloria, where can we follow and find you?
A
Ooo yes! Please find us on Instagram and FB and check out our newly launched website and sign up for more info. I hope you love it! gloriagloria.com @highascandywine