You have probably heard of Vampire Facials aka micro-needling – which is microdermabrasion followed by a mask of platelet-rich plasma (PRP), basically a dermatologist will draw your own blood and inject it into your face to improve the texture and tone of your skin, as well as smooth fine lines and wrinkles.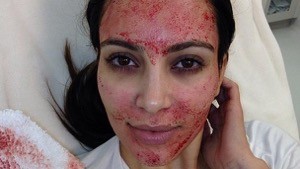 Well, can you believe there is actually a similar treatment for hair loss! Let's break it down.
HOW DOES PRP WORK?
A sample of your blood is drawn and put into a centrifuge which spins and separates the red blood cells from the plasma. The plasma contains white blood cells and platelets - these are rich in growth factors and are what helps stimulate and promote hair growth. The doctor then injects the plasma into the scalp with a syringe to stimulate your hair follicles.
CAN ANY TYPE OF HAIR LOSS BE TREATED BY PRP?

Yes, PRP can be used to treat any type of hair loss or thinning hair. Although it's most commonly used for people dealing with androgenic alopecia (male and female pattern hair loss).
ARE THERE SIDE EFFECTS OR DOWNTIME?

There are little to no side effects or downtime. Your doctor will apply a numbing cream but you may
experience mild pain, redness, possible bruising, infection, and/or scarring at the injection site.
You need to avoid washing your hair for 48 hours post treatment but can continue with normal activities after 24 hours.
HOW FAST DOES HAIR GROW BACK?

Results vary depending on how long hair has been gone from the area, but on average you can expect to see results within 6 months. Doctors suggest to avoid chemical treatments and products containing sulphates during this time.
CAN THE HAIR LOSS COME BACK?

Yes, it can. PRP can be an extremely effective treatment option for hair loss, but as it's so new, the long-term effects of PRP are stilled being studied.