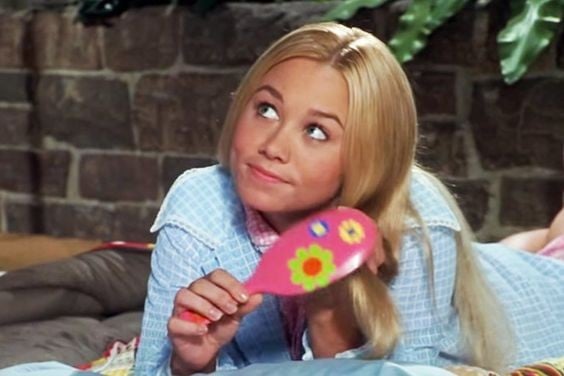 Is this a question that you are all silently asking yourself?
I have had one of those weird weeks when the same unusual topic pops up seemingly ALL THE TIME in unrelated convos with unrelated friends. I actually had dreadlocks in the 90's on purpose, when they were cool. So, I thought I might tackle the question with some theories I have that might answer this dreads question for you all, and give you some practical tips on how to avoid getting them.
Dreads form when hair that has malted, or fallen out of your scalp, tangles up with, and mattes together with your hair that is still attached and growing.
Here are my tips on how to avoid unwanted dreadlocks:
START A PRE-SHOWER ROUTINE
If it's a hair wash day, take a minute to brush your hair before you jump in the shower. The aim is to begin removing the build-up of malting hair from your head. If your hair is dry and brittle add a serum to the ends of your hair, this will help your brush move through your hair without creating damage caused by ripping or stretching. Brush from the roots of your hair underneath and outwards, then from the top of your head and downwards.
RETHINK YOUR SHAMPOO TECHNIQUE
Sometimes you want to give your hair and scalp a good scrub, I get it. Its feels good. However, your hair and scalp probably aren't as tough as you think they are. My question is: would you scrub your silk pyjamas with the same enthusiasm that you scrub your head? Treat your scalp with the same care that you treat your face, treat your hair like a delicate fabric. Over-enthusiastic shampooing adds friction to your hair wash which equals more tangles down the track. Also, rinse your shampoo as if your life depends on it.
ALWAYS USE CONDITIONER
If the surface of your hair is rough, porous or over-stimulated, it acts like Velcro and individual strands begin to stick to each other. Conditioner works in three key ways that are important for detangling;
Firstly, conditioners are positively charged which means that they attach like a magnet to the damaged negatively charged areas of your hair. A good conditioner will contain ingredients like Behentrimonium Methosulfate, Stearamidopropyl Dimethylamine or Cetrimonium Chloride.
Secondly, they lower the pH level of your hair overall, closing the cuticle to reduce the surface texture of each strand thereby reducing frizz and potential for friction. Even if your hair is fine it's vital to use a conditioner.
Thirdly, they contain emollients like silicones, fatty alcohols, plant oils and polymers (Polyquaternium-10 and Guar Hydroxypropyltrimonium Chloride) that coat your hair shaft and smooth out any rough and damaged zones on the cuticle.
THE BEST NO-TANGLE TOOLS
Keep a wide-toothed comb in the shower and use it to comb out your hair while you condition. This will remove the last of the malted strands of your hair that may have been loosened during your shampoo.
Only EVER use a detangling brush to brush your hair. These brushes are specifically designed to minimise stress on your hair by gently removing knots and loose strands.
Use tangle-free hair-ties. Avoid hair-ties with metal clasps and remember that bigger is better. Scrunchies are great and Invisibobble's telephone cord design distributes tension without compromising grip. Hair claws are a great option to capture a loose effortless twist.
Detangling sprays are great tools for fighting dreadlocks because you can use them to precisely target prone areas of your hair without causing a condition overload everywhere else.
FITSPO FOR HAIR
The old saying prevention is better than cure holds true in this case. Get regular haircuts to keep your ends in prime condition and look after your hair from the roots to tips with a considered and professionally prescribed hair care regime.
Check out colleen's recommended regimes: